Holiday Inn takes its place in Tbilisi
By Libby Wassmann and Jennifer Luo
Thursday, January 13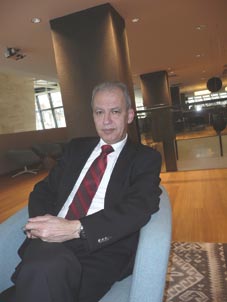 The new Holiday Inn Tbilisi, which replaces the Hotel Adjara, celebrated its soft opening on December 19, 2010 and jumped into the Georgian hospitality market as a trendy mid-market place to stay. It currently offers 126 rooms, with plans to double its capacity to 252 rooms by summer 2011.
Construction of the Holiday Inn has been ongoing for the past few years, but the political and economic environment put the project on hold until 2010. Following that decision, the hotel was completed in a mere seven months.
Holiday Inn is the first international brand franchise hotel in Tbilisi, indicating a growing worldwide interest in the country. General Manager Maurice Gelders, who has over thirty years of experience managing hotels in Western Europe, is guided by the quality and safety standards of the InterContinental Group, and has high hopes that his hotel will emerge as a reasonably priced, comfortable option for businesspeople and tourists alike.
For Gelders, hospitality is based around the idea that "if you give (guests) good food, good service, and a good time, they will come back and tell their friends as well." He hopes that by providing a familiar international brand to Tbilisi, his hotel will be the first of many developments in making the city more accessible to tourists.
The hotel has already played host to a variety of events, including one attended by Georgian president Mikheil Saakashvili and Mayor Gigi Ugulava.
Natalie Mchedlishvili, PR officer, describes the Holiday Inn as particularly well-suited to large gatherings, pointing out open spaces in the bar and lounge areas, as well as an expansive 1600 square meter outdoor wooden deck overlooking the city. The hotel also boasts a 24m outdoor pool, one of the largest in Tbilisi, as well as the biggest parking area in downtown.
Though the top management is primarily comprised of foreigners, the hotel prides itself on employing mostly Georgians and is backed entirely by Georgian investors. The hotel was hotly anticipated, receiving over 16,000 applications for employment.
The Holiday Inn Tbilisi was designed by a Georgian team and is characterised by extensive wooden floors, floor-to-ceiling windows, and an overall clean, modern design. It makes use of international flavours and resources, bringing in African Iroko wood and Georgian chestnut to complement the Italian furniture and handmade British wallpaper.
The first six floors are to be used exclusively for business and entertainment functions; one such floor is dedicated to a state-of-the-art fitness center and steam room. Guest rooms start on the seventh floor, a design that is intended to maximize noise control.
Gelders, who sees Georgians as "friendly, welcoming hosts," hopes to utilize this attitude to better serve his guests and, in a grander vision, "help build bridges with the rest of the world."
The Messenger wishes the Holiday Inn in Tbilisi all the success and prosperity for the benefit of Georgian economy.