IDPs unite to protest against eviction
By Salome Modebadze
Thursday, January 13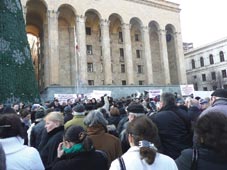 The Public IDP Movement, encouraged by political parties, held a protest rally in front of Parliament of Georgia on January 12. Opposing the Governmental process of eviction, IDPs stood together to share their problems and protect their human rights. "People displaced in the 1990s and 2008 have been filled with hope by the Georgian Government, but as a matter of a fact we have remained homeless…" IDPs said in a special statement demanding protection of their moral and legal rights by the Georgian democratic legislation. "Today we need your (Governmental) support and hope that the unwise list of expenses and violations could be finally balanced and the rights of IDPs will be protected by the state. Eviction of thousands of families from the capital will make them double-refugees in their home country and this time they will remain with no chances to survive," was said in the statement.
Waiting either for apartments or financial compensation from the Government, IDPs have been hiring rooms or staying with relatives in Tbilisi for many years. Terrible misery and state discouragement forced them to enter empty state buildings thus save their families from beggary. Medea Kuchava, an IDP from Abkhazia, worried that no particular attention has ever been paid to the people living in the so-called "private sector." "IDPs are only given GEL 28 state assistance while the country seems to have enough money for arranging different multi-million dollar projects during the year. Why can't they solve the problem of IDPs? I just wonder whom are they opening these projects for - will IDPs, pensioners or veterans ever afford them?" she told The Messenger addressing the Minister of IDPs Koba Subeliani to debate with IDPs and become more familiar with their problems.
Tbilisi citizens attending the rally encouraged IDPs and proved their friendship. Encouraged with other social groups, IDPs hoped to stay strong and win the process. "Today's rally aims at stopping the state violence towards IDPs and avoids further social confrontation. Let the Government regain its consciousness and avoid radical steps," authorities from the Public IDP Movement stated. Lasha Chkhartishvili, member of the Conservative Party, told The Messenger that they have visited all the 25 settlements with 3000 families in Tbilisi who are facing state eviction. Warning that they would continue permanent rallies in case of eviction, Chkhartishvili demanded distribution of the promised compensation to IDPs and legalization of apartments. "The Georgian Government has been manipulating with the IDPs. These people should receive the buildings in Tbilisi, the city they have lived and worked in for years and the buildings where they had been accommodated with the Government's consent; they won't have any special opportunities to support their families in the regions," he told us.
Discouraging the Government from leaving IDPs without attention Eka Beselia, leader of the Movement Solidarity with Illegal Prisoners hoped that consolidation among the social groups would bring the final solution to the problem and no street rallies will ever be needed in Georgia.
But Valeri Kopaliani, Head of Administration of the Ministry of Internally Displaced Persons from Occupied Territories, Accommodation and Refugees of Georgia repeated the same to media: "IDPs will receive alternative spaces for property in different regions in Abasha, Khobi, Zugdidi, Tsalenjikha, Bakurtsikhe, etc" so that IDPs and their supporters will gather in front of Parliament on January 15.