Zurab Noghaideli to launch new political party
By Gvantsa Gabekhadze
Monday, January 17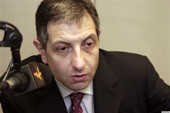 Zurab Noghaideli, former leader of Movement for Fair Georgia, is going to launch a new political party. A statement concerning the issue was made by him, on January 14. As he has mentioned he will not cover the liabilities of his former employees and at the same time he will not start cases against such an "unjust decision, as it has no meaning."
Last year, a group of activists from the Movement for Fair Georgia, which was chaired by Noghaideli, accused the party leader of a failure to pay salaries for the work carried out by them during the campaign ahead of the May, 2010 local elections. The group convened the party congress in December, 2010 in which it was reported that 3,500 activists participated and voted to sack Nogaideli from the post of the party chairmanship, although leaving him as one of the members of the party's governing body. On January 11, the Georgian Justice Ministry said that the congress was legally eligible to take such a decision as it was held in line with procedures and officially registered the decision, meaning that Nogaideli was no longer entitled to lead the party.
Noghaideli said that the group, which confronted him and their campaign, which eventually led to his sacking was" orchestrated by the authorities." However, as he has mentioned "the illegal decision" by the Justice Ministry to formalize decision by "illegal party congress" would not stop him from political activities, "We will set up a movement, which will be old in its content, but formally it will be a new on in order to overthrow, destroy and dismantle Saakashvili's regime," Nogaideli said.
On the other side, the former members of the Noghaideli's Movement are not going to stop and will start a case against Noghaideli to make him pay salaries to the court. As one of the former employees, Nato Khokhiashvili stated, "Noghaideli has got such great property, that it will not be difficult for him to pay GEL 350 000." Noghaideli does not exclude that "in the frame of the current regime" the court might adopt a decision against him, however he will not fulfill such an obligation, "those people, who are the participants of betrayal against me, will never get that money and I warn all, who will decide to participate in my party in the future, not to make such steps for the sake of money, as it will be useless for them. "
In the coming days, Noghaideli is leaving for Strasbourg, as he has mentioned he will hold meetings there with the representatives of the international community. At the same time, he will make an announcement concerning the "unfair decision against him" to the foreigners. As for more detailed information on his future party and the office where the party would be placed, this will be made known to the society in the near future.