ProCredit Bank introduces New Branch Concept
By Messenger Staff
Tuesday, January 18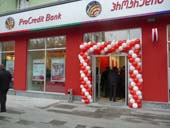 ProCredit Bank Georgia opened a new branch in Vake, at 54, Chavchavadze Avenue on January 17. Director of ProCredit Bank Georgia, Sascha Ternes and the head of the Bank's Vake branch Zurab Pkhakadze cut the red ribbon and congratulated the guests on the relocation of the Vake branch to the new building.
Speaking at the opening of the new branch, the Director of ProCredit Bank Georgia said the bank would offer a new service – One Stop Banking to its customers. According to Ternes, the new service will enable clients to perform transactions faster and receive and pay small amounts of cash not necessarily at the cash-desk but with a client advisor. "All transactions will be done in one place, which will make it more efficient and enjoyable for the clients to use our banking services," he said, adding that there will also be separate meeting rooms, if clients need more confidential consultations.
Ternes pointed out that the bank developed a special new branch design concept to fit the One Stop Banking service that will be gradually introduced in all branches of ProCredit Bank, including new branches which will open during the year.
"An extensive and well-developed branch network with convenient and easily-accessible locations is one of the strengths of our institution," Ternes said "The newly opened Vake and Didi Digomi branches are designed according to the new branch model, where our clients will enjoy One Stop Banking services. Staying close to our clients has always been our main focus. With the new branches opening this year, we will get even closer to them, offering a convenient, fast and high-quality service," he added.