New IDP campaign launched
By Gvantsa Gabekhadze
Tuesday, January 18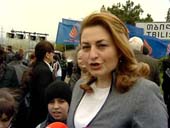 The Georgian Party launched a new protest campaign 'I am an IDP', on January 17, which aims to protect the rights of internally displaced people. Members of the party announced the goals of their new campaign and demanded the resignation of Koba Subeliani, the Minister of IDPs from the occupied Territories, Accommodation and Refugees, whom they accuse of negligence of the IDPs' problems.
"The total violation of the rights of IDPs rights has warranted such a step. We will meet the IDPs systematically, listen to their problems and complaints and then inform the international community of the issues. The Georgian authorities have international obligations towards the refugees and it must fulfill those obligations," party member, Sopho Khorguani said, also mentioning that a special group will be formed within the party together with professional lawyers to serve the IDPs interests.
Khorguani also voiced complaints about the Tbilisi mayor, saying that the Tbilisi municipality was also responsible for solving the IDP housing problems. As part of its campaign, the Georgian Party is ready to hold talks with all political parties and non-governmental organisations.
One of the leaders of the Labour Party, Nestan Kirtadze told
The Messenger
, "The IDP issue should be discussed in the interests of Georgia's national and territorial integrity and must not be used as a part of a political campaign or PR stunt by any political faction in the country." She said that for the moment she was unable to comment on Georgian Party's newly launched political campaign, however she welcomed the active involvement of IDPs in the process, stressing that "the interests of those Georgian citizens who became IDPs in foreign countries due to the current authorities' wrong policy should also be protected."
This campaign was not launched by the Georgian party - leader of the movement 'Solidarity to illegal prisoners', Eka Beselia told The Messenger. "The IDPs themselves started the campaign and I've stood with them since the summer. The Georgian party has simply taken up their campaign." Talking about what is happening with IDPs in the country, she commented, "it is a violation by the Georgian authorities towards those people of the UN convention, and society and IDPs especially should move to resist unjust governmental decisions."
According to Minister Subeliani, "IDP issues are very complicated and a lot of people commenting on them are not fully aware about the facts. I am ready to collaborate with anyone on the issue." He said that despite living in tents in Tbilisi, IDPs are being offered nice accommodation in the regions in private property. As for satisfying the IDPs with accommodation in Tbilisi, Subeliani said, "The Ministry has no means for this."
Analyst in conflict issues, Paata Zakareishvili told
The Messenger
, "It is a very important campaign; it can only have a positive results. I appeal to all political forces to be involved in the process."