Georgia denies arms sale allegations
By Mzia Kupunia
Tuesday, January 18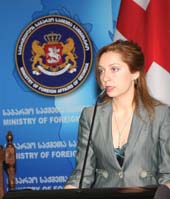 The issue of resuming arms sale to Georgia was not discussed at the meeting of the Presidents of Georgia and the US, deputy Georgian Foreign Minister, Nino Kalandadze said on January 17. Her statement followed information released by the Russian newspaper
Kommersant
which on January 14 reported that Georgian President Mikheil Saakashvili, "decided to remind the US administration that Tbilisi is ready to hold talks on reaching a major arms contract." According to Kommersant, the deal could be about rocket complexes and anti-tank rockets Hellfire 2 and Javelin.
The Georgian and the US Presidents talked about all the priority issues set out in the US-Georgia Strategic Partnership Charter, including that of security, the Deputy Foreign Minister of Georgia told journalists at Monday's usual press briefing. "However they did not touch upon the issue of giving arms to Georgia," she noted. Kalandadze stressed the importance of President Barack Obama's order to the Security Council to "pay special attention" to the issues raised by President Mikheil Saakashvili. "We are very glad that President Obama gave a special order in this respect," she said.
Previously, on January 11, the Russian media reported on the United States' "readiness to resume selling arms to Georgia as requested by Tbilisi." According to newsru.com, Washington "is planning to pass the arms through the third country." According to information provided by an anonymous source from the Russian special services newsru.com wrote that Washington "gave a promise" on resuming providing arms to Georgia to the Georgian State Minister on European and Euro Atlantic Integration, Giorgi Baramidze during his visit to Washington last December.
According to newsru.com, the General Headquarters of the Russian Armed Forces confirmed the information provided by the anonymous source. "It's a pity that the restart of the Russian-US relations, declared by the administration of Barack Obama does not change Washington's policy of supporting the Georgian government in military terms," newsru.com quoted the representative of the Russian Armed Forces General Headquarters as saying.
The US Defence Department denied the reports disseminated by the Russian media outlets. In response to the question whether the US is "ready" to resume selling arms to Georgia the Washington Post reported last Thursday Navy Commander Wendy L. Snyder, a Pentagon spokeswoman responsible for defense policy as saying, "The reports of US arms sales to Georgia via third countries are completely false."