Georgian Foreign Minister in economic discussions with Azerbaijan
By Salome Modebadze
Thursday, January 20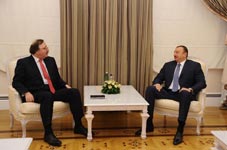 The Minister of Foreign Affairs of Georgia (MFA) Grigol Vashadze held meetings with Azerbaijan authorities on January 18-19. On the first day of his visit, Vashadze discussed the issues of economic cooperation and regional security with the Azerbaijani President Ilham Aliyev in Baku. On the subject of ongoing projects and those waiting to be implemented in the near future, Aliyev spoke of the agreement with the European Commission President Jose Manuel Barroso on a Joint Declaration on the Southern Gas Corridor envisaging long-term supplies of Azerbaijani gas to Europe uniting the joint economic efforts of Georgia and Azerbaijan.
According to the European Commission, the Southern Corridor entails the construction of several pipelines, such as NABUCCO, ITGI, White Stream and TAP, aiming to bring gas from the Caspian Sea to Europe. NABUCCO aims to bring gas to the border of Europe with a new pipeline, whereas TAP and ITGI requires the strengthening of existing infrastructure in non-EU countries. In the next months Azerbaijan has to make a further decision on which of these pipelines to prioritize.
On January 19, Vashadze met the Foreign Minister Elmar Mammadyarov and Transport Minister Zia Mamedov. The two counterparts discussed the bilateral economical projects, stability within the region and cooperation with international organizations. Talking of the ways for developing their relations the two Ministers discussed the Baku-Tbilisi-Kars railway project which should be ready by 2013 and also caught their attention on energy-related issues highlighting that the Baku-Tbilisi-Ceihan project was working quite well.
Analyst Giorgi Khutsishvili welcomed the cooperation between Georgia and Azerbaijan, who have lots in common. "Azerbaijan is a reliable partner for our country and it has proved its loyalty in August 2008 when Russia forced the Azeri Government to stop providing Georgia with oil. Everything from Baku-Tbilisi-Ceihan to the newest Nabucco project had been great steps proving their friendship. Moscow has been trying to create an alternative energy corridor but the European Union has put lots of money into implementing the NABUCCO project. Moreover, Georgia and Azerbaijan share the same problems: Azerbaijan with Mountainous Karabakh and Georgia with Abkhazia and South Ossetia," the analyst told
The Messenger
.