Tskhinvali demands compensation from Tbilisi
By Mzia Kupunia
Friday, January 21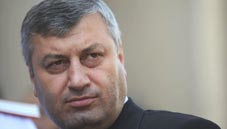 The de facto South Ossetian President, Eduard Kokoity has said that Tskhinvali will demand compensation for the damage caused by the Georgian side during the August conflict in 2008. He was speaking at the meeting with the leader of North Ossetia, Taymuraz Mamsurov on January 19, according to RES news agency. The de facto leader of Georgia's breakaway region accused Tbilisi of "genocide" of the Ossetian people, adding that "the facts of genocide should not be left unpunished."
"The damage caused by the Georgian side in South Ossetia is huge – several millions of Dollars. And we will demand compensation for this damage," Kokoity said "many facts of genocide have been collected and all of them have been documented and recorded. We need to coordinate our actions so that the international organizations, European Court of Human Rights give trustworthy, objective assessments to these facts," he noted.
Last week the European Court of Human rights struck off 1459 cases of 3300 individual applications filed by South Ossetian residents and Russian servicemen deployed in Tskhinvali region concerning the Georgia-Russia conflict of 2008. The Court cited not receiving the additional requested information from the applicants as the reason for its decision. "Having received no response to its request for information, sent on two separate occasions in 2010 to the applicants' legal representatives, the court decided to strike 1459 of 3300 cases belonging to the group," the statement issued by the European Court of Human Rights on January 10 reads.
Officials in Moscow and the de facto authorities in South Ossetia slammed the decision of the Court, saying that it was "politicised". "Their position is anti Russian," Russian State Duma member of the ruling party, Sergey Markov said. De facto officials in Tskhinvali meanwhile accused the European Court of making an "unjust" decision.
The de facto Sukhumi administration has also demanded compensation from the Georgian government. Last week so called President of Abkhazia, Sergey Baghapsh said Tbilisi should pay 13 billion Dollars as a compensation for "Georgian aggression against Abkhazia." Baghapsh noted that the Abkhazian side will pay compensations to the people who lost their property in Georgia's breakaway region only after Tbilisi pays the compensation first.
Tbilisi denies the allegations of the de facto administrations about "genocide", saying that in fact genocide and ethnic cleansing took place against Georgians. Georgian politicians lay the responsibility firmly on the Kremlin. "We do not know what Baghapsh means. There was a war in Abkhazia, with the signs of civil war and the main player was Russia. Military moves were taking place within the Georgian state borders. If there is anyone who has to pay any compensation, this is the Kremlin," MP from the ruling National Movement Party, Chairman of the Parliamentary Committee on European Integration Issues, Davit Darchiashvili told the Messenger in response to the de facto officials claims.