Miner killed in Tkibuli explosion
By Gvantsa Gabekhadze
Monday, January 24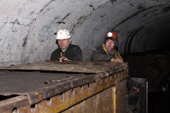 One person was killed and four were injured after an explosion in Tkibuli mine on January 21. An investigation into the tragic incident is underway, but at present there are differing versions of events being reported. According to the mine owners the explosion may have been caused by a violation of security by the workers. However this statement infuriated the President of Georgia, Mikheil Saakashvili, who stated that the accident was caused due to "negligence and criminal activities" from the mine owners side.
A total of eight miners died as a result of two separate explosions in the same mine in March and August of 2010. One miner was killed and three others were injured when a protective barrier reportedly collapsed in the same mine in December, 2009.
"We were given similar conclusions during the previous [incidents] and all the blame was put on miners," Saakashvili stated underlining that, "I regret deeply that the criminal case launched by the prosecutor's office has not been taken to its logical conclusion yet, if those responsible for previous explosions were punished, this more recent accident could have been avoided. As the President mentioned, the recent explosion will be investigated by "serious people," including those invited from abroad, instead of those, "who are sitting in Tbilisi and taking money from the owners of the Tkibuli mine and therefore, they have no problems to write a lot of nonsense and lies in the conclusion."
Coal mine in Tkibuli is operated by Saknakhshiri, a daughter company of Georgian Industrial Group, a conglomerate founded by lawmaker from the ruling party, Davit Bezhuashvili - a brother of Gela Bezhuashvili, chief of the Georgian intelligence service.
According to the executive director of the industrial group, Zaza Sadunishvili, "the ventilation system of the mine works accordingly and the accident could not have been caused by this." As he has mentioned, it is too early to identify the exact reason for the blast and a special commission would study the evidence closely in three days; As for the technical director of the group, Zaza Gordeziani, "after the investigation, if the fault of any employee would be revealed, appropriate measures will be carried out."
It will soon be revealed who is the victim of "a back sight" of Saakashvili's " arrow"- political analyst, Soso Tsiskarishvili stated for
The Messenger
, "What right does the President have to make statements before the official investigation results? Talking about the issue is a matter for the competent investigation." However, as the analyst has mentioned "the cause of such tragedies is the ignorance of professionalism in the country , which has become endemic" and that those statements of the President before the formal investigation results have been targeted towards the prosecutor's office and similar structures, "Thinking first before making statements is not a characteristic of the current authorities , and in this case, as usual, there would be found a back-sight which will receive the President's arrow."