Georgian, Armenian Presidents on need of "deepening relations"
By Mzia Kupunia
Monday, January 24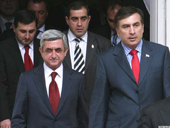 Georgian President, Mikheil Saakashvili met his Armenian counterpart, Serzh Sargsyan in the frames of his two-day visit to Armenia. The two Presidents discussed the issues of deepening mutual cooperation between the countries and talked about energy and investment projects before touched upon issues related to regional security, Saakashvili's administration reported.
Saakashvili offered Sargsyan to work on making state borders "more transparent" and to "eliminate bureaucratic barriers." "A lot should be done during this visit. We should make all efforts to keep our borders open. The cars should pass so that practically they don't have to stop as it is in Switzerland and France. The borders should be as transparent as it is in the EU member states," Saakashvili said "people should not be stopped [at the border] and there should be no barriers. From the Georgian side it is possible to cross borders in 2-3 minutes, however this should be the same from your side as well," he noted, adding that it is necessary to create a mutual informational base in order to streamline the process from both sides.
"We do not have problematic and complicated issues to discuss, we are only talking about pleasant subjects. It is necessary to unite the economies and power of the two countries. There should be no bureaucracy," Saakashvili stated "We are very small states, so we are interdependent and we should work in this direction," the Georgian President added.
Earlier, Saakashvili and his Armenian counterpart visited a Technological Development Centre in Armenia and awarded the winners of the first Georgian-Armenian School Olympiad. The Presidents of the two countries stressed that the education sphere is a priority for Georgia and Armenia. Saakashvili voiced an initiative about allocating 10 Presidential stipends for successful participants of the Olympiad to continue studying in Armenia. "I think this is just a beginning. We want same kind of exchange programs, such competitions, such friendship, because, eventually our countries will simply disappear without each other," the Georgian President stated "We should go hand in hand and be side by side in good and bad times, because we are very important allies. two ancient friendly nation, the fates of which are directly connected with each other," he added.
Saakashvili hailed his Armenian counterpart, saying that "I consider him as my close friend and brother." "Our meeting is always special and it is always connected with positive emotions. I will never forget my previous visit in Armenia. In a very important time for Georgia the Armenian President expressed full political support and stood by our side as a brother," the President noted.
The Armenian President also hailed Saakashvili for being a "determined and successful" person. "Georgian-Armenian relations have not started from us, however our duty is to further deepen these relations," Sargsyan said "Relations at some point involve competition. We are nations, which have never confronted each other and we are happy for each other's success. We should compete with each other in doing good things and congratulate each other for success," he noted.
Saakashvili's visit to Armenia ended on January 23.