Mine explosion was possible
By Gvantsa Gabekhadze
Tuesday, January 25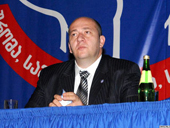 "An explosion in the mine in Tkibuli was possible, and the leadership of the company owning the mine having received information, were aware of the threat," stated Irakli Petriashvili, the head of the Georgian Trade Union, yesterday.
One person was killed and four were injured after an explosion in Tkibuli mine on January 22. Before the results of the official investigation, statements have been made by the President of Georgia, business owners and others linked to the issue. According to the President those guilty will be found among the mine owners as it appears conclusions regarding previous explosions in the same mine have been falsified. Georgian Industrial Group (GIG), which owns the business, blames the workers.
Petriashvili mentioned that a group of 5 miners went into the pit as a result of the supervisor's pressure knowing that the methanol level in the 3rd section of Mindeli Mine was at 6%, i.e. with high risk of explosion, when staying in the mine is banned altogether.
The TU head said there had been a similar order by supervisors a couple of days previously. The miners hadn't followed the instructions resulting in a clash between the sides, with Brigade No. 3 threatened with the sack if they didn't obey the order. Thus, they went into the pit.
Georgia's TU has always called for the provision of safety measures for the miners' secure working conditions. However, the company owning the Mindeli Mine Georgian Industrial Group has never taken the claim into account. The TU also demands that they should be involved in the investigation process and that GIG should stop blaming the miners.
A nine-member commission is currently conducting an investigation. Representatives of the regional prosecutor's office and technical supervisory centre of the Ministry of Economy arrived at the site soon after the incident. The final result is expected in a few days. According to the President's administration, "The President's position on the issue is already well-known. At the present moment, the only thing we can add is that the investigation is ongoing and the questions will be answered very soon."
Representative of the opposition New Rights party, Manana Nachkebia told
The Messenger
, "For the first time I agree with the strict statements from the official side concerning the fact. Even before the official results of the investigation, it is obvious that the safety standards are not protected by the mine's leaders and as a result workers lives have been and are in danger." As for the President's statement that the business owners are guilty of the tragedy and that the conclusions of the former two explosions were fabricated, Nachkebia said, "If the authorities had some information about falsifications and did not react on it until this tragedy, then they and others involved in the issue should also answer for this."