New book assesses socio-economic situation in Georgia
By Ernest Petrosyan
Wednesday, January 26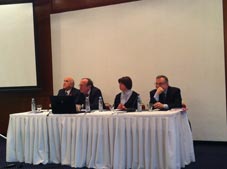 The presentation of a book "Georgia's social-economic development programme" was held at Sheraton Metekhi Palace. The book was co-written by Alexandre Tvalchrelidze, Avtandil Silagaadze, Giuli Keshelashvili and Davit Gegiadze.
"I would like to extend my gratitude to the International Sustainable Development Foundation and its Georgian representation and Open Society Georgia Foundation. Without their assistance the book would not have been published", stated the co-author Alexandre Tvalchrelidze.
The programme presents a new socio economic conception, which, according to authors will be extremely productive, both from a long and short term perspective. It envisages the reasonable production of natural resources as well as the development of industry and agriculture. According to the prognosis of the programme, in a seven year time frame, 4 times more resources will be allotted to education and healthcare. In the same period, seven times more resources will be mobilized for social security, culture and sports. The implementation of the programme will enable a considerable increase in pensions and salaries, which will supposedly be 6 times more in comparison to what is provided today. The unemployment level will be equal to an average European state, and all of those unemployed will receive social aid, which will be above the minimum survival level.
"Currently the government does not have a determined socio-economic programme. There are some fields which are being developed though not consistently. I would like to emphasize that this is not a political document, this document is based only on our knowledge, and indeed we will accept any criticism concerning this document", stated co-author Avtandil Silagadze.
Only experts and journalist attended the presentation of the book in order to prevent the polarization of this new document. "We decided not to invite political figures, as we knew in advance that they would not come. In any case we did not want the book to have any political attachment", stated the editor of the book Lado Papava.
"Georgia should become an economically self sustainable state, especially when we have such potential. We cannot constantly rely on international financial aid", stated co-author Alexandre Tvalchrelidze.
The book reveals the most problematic and negative aspects of social economics in Georgia. It reveals the catastrophic statistics in comparison to 1980 in socio-economic fields, especially in agriculture, which has become less and less self-sustainable and depends more on imported products. The extraction of natural resources has also significantly decreased. Migration still remains one of the key problems for Georgia. The demographic picture is also very bleak, since the number of people over the age of 65 has dramatically increased in comparison to 1990.
According to the consolidated opinion of the attending experts, the socio-economic environment in Georgia is really poor, and systematic changes are needed in order to move away from such profound and long term crises.