Tbilisi angry over Tochka-U system in Tskhinvali
By Mzia Kupunia
Wednesday, January 26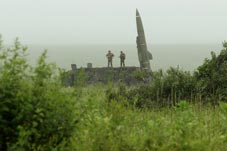 The Georgian Foreign Ministry slammed reports about the deployment of an additional battalion of the Tactical Operational Missile Complex Tockha-U in Georgia's breakaway region of South Ossetia, saying that "deployment of offensive rocket systems in the occupied region points clearly to the Russian Federation's plans to launch open military aggression against Georgia." Russian news agency Interfax, based on an anonymous source from the law enforcement agencies of the Southern Federal District of the Russian Federation, reported on Monday that the Tochka-U complex, with a range of 120 kilometres has been deployed near Tskhinvali.
The deployment of Tochka –U and the artillery battalion equipped with Smerch multiple-launch rocket systems poses a "direct overt threat to the peaceful population and territory of Georgia," the statement posted on Georgian Foreign Ministry website reads. "By taking such actions Russia follows through with its aggressive policy directed towards the destruction of the Georgian statehood and elimination of the peaceful population of Georgia, as well as towards causing large-scale instability in the Caucasus and throughout the Black Sea region," the Ministry said.
The Georgian Ministry noted that with the use of Tochka-U systems the Russian Federation "completely destroyed the city of Bamut (in the Republic of Chechnya) and eliminated its peaceful population." Official Tbilisi has "strongly demanded" that the international community, international organisations and partner countries "adopt active and effective measures in order to force Russia to end its aggressive policy against Georgia, fulfill its international commitments, including those under the August 12, 2008 ceasefire agreement, undertake a commitment on the non-use of force and ensure the full and immediate de-occupation of the Georgian territory."
According to the anonymous Russian military official, quoted by Interfax news agency, "Georgian special agencies are informed about the presence of rocket weapons in South Ossetia, which are capable of deflecting any aggression from Tbilisi." Earlier in December Russian media outlets reported on the deployment of the multiple rocket launcher artillery system Smerch in Georgia's breakaway region of South Ossetia. The anonymous source from Russian law enforcement structures then told Interfax agency that Smerch was deployed near Tskhinvali to "prevent possible aggression from the Georgian side."
The Georgian side however downplayed claims of the Russian authorities about possible threats from the Georgian territory, saying that the Moscow's statements were "groundless and slanderous." "Against the background of such allegations and the speedy militarisation of Georgia's occupied territories, the likelihood of military threat from Russia in fact increases," the Georgian Foreign Ministry stated. "The increasing military build-up in Abkhazia and Tskhinvali region indicates that the aim of the expulsion of the OSCE and UN observation mission from Georgia's occupied territories was to avoid control and monitoring by the international community in these regions," the Georgian MFA said.