Saakashvili honours Lithuanian journalist
By Messenger Staff
Friday, January 28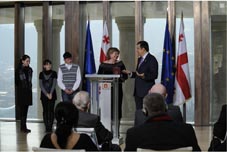 President of Georgia Mikheil Saakashvili has awarded a famous Lithuanian journalist Edita Mildazhite with the Order of Brilliance for her contribution to journalism and active social and charitable activities.
At the award ceremony, Mikheil Saakashvili thanked Edita Mildazhite for her activities in support of Georgia.
"This award is a great honour for me and I feel obliged to continue my activities for deepening georgian-Lithuanian friendship. Frankly, it is my great wish to help Georgia again in the frames of such a project. I would like to implement more TV shows which will include not only Georgia but other european states as well. Georgia is a very proud country and the Georgian government is the number one reformer in the world. I would be very happy if I could do a better job for Georgia in the frames of this project," Lithuanian journalists stated.
The well-known television presenter was the organizer of the charitable event "Lithuania-Georgia is one heart," which was broadcasted by the Lithuanian television in May 2010. Within this project a concert of the Georgian ensemble "Chveneburebi" was held in Vilnius.
As a result of this action, USD 100 000 has been raised and 230 child refugees from Georgia have been treated.