Bollywood interested in film-making in Georgia
By Salome Modebadze
Friday, January 28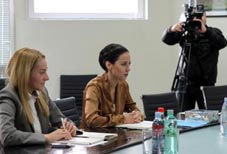 The Ministry of Culture and Monument Protection of Georgia (MCS) hosted the Bollywood Delegation of the Indian film industry on January 27. The visit was organized by National Investment Agency of Georgia. Cooperation between Georgia and India in cinematography has become the subject of discussions since November 2010. During this week, Indian guests will see different parts of Georgia and will study the prospect of film making in our country. During this visit, Indian producers will also watch a video about Georgia which will be presented to Indian film makers and television companies. Expressing the Governmental support towards the idea, Minister Nika Rurua highlighted Georgia's wonderful opportunities and advantages in this direction and hoped that specific proposals would follow after the visit.
The Minister of Economy and Sustainable Development, Vera Kobalia, said that making films abroad has become the main priority for Indian producers, that's why they are very much interested in making films in Georgia as well "Bollywood is a great film industry with more annual income than Hollywood," Kobalia said, explaining that there are more films made in Bollywood than Hollywood nowadays. Taxes would be the same for the representatives of the Indian cinema industry as any foreign investor but the Georgian Government would assist them with the relevant infrastructure.
As Varun Bajaj co-producer of Siddhi Vinayak Creations told the media they already have the scenarios of thrillers and action films which they may make in Georgia. But before that the Bollywood producers would make a short documentary film introducing the tourist potential of Georgia to the Indian audience. "There are billions of spectators in India thus producers try to offer them a great choice of films. Georgia would be a new place for them and we think that our cooperation would be a real success," Minister of Economy said hoping that the Georgian actors and producers would also cooperate with their foreign colleagues. The Bollywood delegation later met the Georgian Film authorities, watched the previously censored Georgian film "My Grandmother" and made a casting for Georgian actors.
Analyst Ramaz Sakvarelidze welcomed Georgia's cooperation with international cinematography. On
The Messenger
's question as to whether this kind of cooperation would be beneficial for Georgian film production, the analyst doubted whether this field would manage to revive without international support. "We wouldn't have so many questions around the cooperation of Georgian-western cinematography but introduction of any international cultures should be of great encouragement to the Georgian film makers," he added.