New Business Ombudsman appointed
By Gvantsa Gabekhadze
Monday, January 31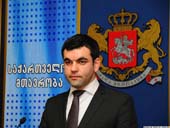 Giorgi Pertaia, the Prime Minister's advisor in charge of business liaison, was appointed as the first business ombudsman in Georgia, on January 28. He was described as the "best" candidate from the authority's side; however Georgian opposition and analysts have some reservations on the appointment of the Business ombudsman.
According to the new Tax Code that recently came in to force, the Prime Minister, after negotiating with the Parliament, has a right to appoint a tax and business ombudsman. Based on the new tax code, the Tax ombudsman is obliged to fulfill the following duties: monitor how the rights of tax payers are protected. In case of tax payer's right's violation, the business ombudsman appeals to the relevant organ and gives recommendations accordingly. The tax ombudsman has a right not to make that information public. He should present an annual report concerning the situation in this field. The recommendation should contain common information on how the tax payers' rights are ensured, a conclusion and recommendations.
"We discussed candidates with Davit Bakradze (Parliament Speaker) that were suggested by different sectors. We chose the most appropriate candidate, "- PM, Nika Gilauri said.
He noted that the main aim of the new post of the business ombudsman is to tighten relations between the government and private sector. "This is a very important position and Giorgi Pertaia will continue the work that started a year ago. He has experience of working in the private sector. According to Bakradze selected Tax Ombudsman has all necessary features" to help the authorities and business "establish partner relations."
As Pertaia stated "I will do my best to ensure that business is protected in the country. Business representatives should be enabled to plan their businesses peacefully and not be afraid of some unexpected changes."
A certain element of Georgian opposition is not as optimistic regarding the institute as the authorities. Davit Saganelidze, one of the leaders of the New Rights said the Business Ombudsman appointment rule does not guarantee impartiality. He believes that in the circumstances of increasing inflation and economic crisis, it is important to relieve businesses from government pressure. Nevertheless the existing rule of appointment of the business ombudsman by the PM leads to the situation when business will not be free from governement involvement. "The Ombudsman appointed by the PM will not provide a defense of business interests. In fact it cannot change anything in the terror against business; cannot change anything in the rude interference of the government to the internal affairs of businessmen."
New Rights believe that the rule of appointment of the Business Ombudsman should be changed on the legislative level. He must not be appointed by PM but by Parliament with the suggestion of Public Defender, who will present the candidate on the basis of recommendations of NGOs, civil society, business circles and media."
The fact that the Tax Ombudsman is appointed by the Prime Minister also imposes doubts in Guram Chakhvadze, member of National- Democrats, who states that in this framework much would depend on personal features of Petaia, rather than duties envisaged through the law, "based on the fact that he was appointed by the Prime Minister, makes things more difficult for him. He should be personally inspired to protect the business and on the way, oppose the governmental institutions."
Business really needs to be protected from the authorities, however the restoration of private arbitrary court would be better rather than the creation of the business ombudsman's institute- states the chair of the Association of Young Financers and Economists, Merab Janiashvili, "it is unimaginable for me, that a man who is appointed by the authorities would then oppose the authorities to protect business interests."
Economic analyst Gia Khukhashvili had the same attitude regarding restoration of private arbitrary court and mentioned that "this institute might have been a real protector of the business sector's rights." he also expressed doubts concerning the Tax Ombudsman's institute and stated that "it would be safeguarding only those business elite, which is collaborating with the authorities."