Sargsyan on Georgian-Armenian ties
By Messenger Staff
Monday, January 31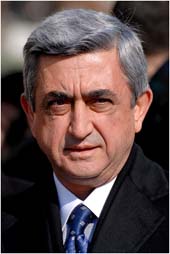 The Armenian President, Serzh Sargsyan talked about Georgian-Armenian ties in an interview with
Echo Moskvy
radio on January 27. He said the two countries are trying to engage in constant political dialogue and integrate the Armenian economy with the Georgian one "as much as possible" and create "more or less favorable" conditions. "Georgia is a very important link in a chain of not only our transit, but also in terms of communication with the world community, with other countries. More than 70 percent of our goods circulation goes via Georgia, and most of our travel is mainly conducted via Georgia," Sargsyan told Echo Moskvy radio.
In an interview, the Armenian President touched upon the long-debated issue of the Armenian Apostolic Church status in Georgia, saying that it is a "complicated issue". "When we denied atheism and made steps to return the property to its owner, this process did not go smoothly everywhere. This process in Georgia is different because the only religious community in Georgia is the orthodox church, which is registered on the Georgian territory. No other registered communities are there," Sargsyan said "However I am sure that in any case this issue will be resolved. First, we are always talking about this issue with the President of Georgia. Secondly, Georgia has international obligations. Georgia entered the Council of Europe with these obligations. So, I am optimistic," he added.
Answering a question about rumors that Georgia might be considering selling the pipelines, which can "complicate the transit of oil and gas to Armenia", Sargsyan said Georgian officials have declared that Tbilisi is not going to sell pipelines. "Anyway, even in the case of selling the pipeline, Georgia will have international obligations, where it is clearly envisaged, that we have a right on transit and that this transit is paid. It is not that Georgia is doing us a favor and permitting to transit gas via its territory. We pay 10 percent for it. If we buy 1000 cubic metres of gas let's say for 180 dollars, it means that we pay 18 dollars for transit. It is a big price," the Armenian President noted.
When speaking about Georgian-Russian relations, Sargsyan stated Yerevan would be delighted if the relations between Tbilisi and Moscow improved. "It is not a secret for anyone that Russia is our strategic partner. On the other hand, we have lived together with Georgian for several thousand years, we have normal, good relations. I would like Georgian-Russian relations to improve and I am sure they will," he said. Sargsyan commented on the issue of recognising Abkhazia and South Ossetia as independent states, saying that Abkhazia, Ossetia and Kosovo bear a "precedent meaning" as far as "we cannot recognise Abkhazia, Ossetia and Kosovo without recognising the Republic of Karabakh. Nobody will understand us in this case. Then the question arises 'why not recognize Karabakh Republic?' Because it will be the last step – we will recognize Karabakh if Azerbaijan starts military actions," he added.