Fights for Veterans' rights
By Gvantsa Gabekhadze
Tuesday, February 1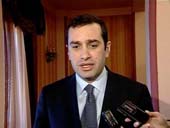 Our Georgia – Free Democrats will appeal to the Parliament in the next few days with a legislative initiative regarding social protection for veterans and their family members, the Party leader, Irakli Alasania announced yesterday.
"State pensions of first and second group veterans, who became invalids in the fight for Georgia's territorial integrity, should be equal to living wage - GEL 150. The same should be true for those families who lost a bread-winner as a result of the wars and they should get GEL 150 for each man in the family who was killed." The party leader has said the monthly compensation for those people should also be increased from GEL 22 to GEL 35.
According to Alasania, hospitalisation funding for the veterans should also be increased to GEL 1.5 million "to enable veterans to get real medical assistance." The initiative also includes assistance for the children of the first and second group veterans and those families left without bread-winners. He commented, "The state budget should co-finance education fees for their children and the kindergarten fee should be waived." One-time help of GEL 1000 should also be allocated for veterans' funeral expenses.
The parliamentary minority Christian-Democratic Movement has already presented two legislative initiatives regarding veterans to Parliament and is awaiting a response from the authorities. The Movement representative, Giorgi Akhvlediani told The Messenger, "The first initiative is related with the so-called article of accounting, which was removed from the law by the authorities. As a result of the absence of the article, the present authorities have divided veterans and law enforcers into two categories, before and after the Rose Revolution." Akhvlediani explained that people who retired before 2004 had low salaries and the compensation which they are given now is based on those salaries, so is also very low. Those who retired after 2004 had high salaries and are thus receiving relatively high compensation. The Movement is demanding the restoration of the article making all veterans and law enforcers equal. "The second initiative foresees the restoration of privileges for the veterans such as the communal fees. In 2006 the authorities rejected this assistance for veterans." Akhvlediani reported that the Christian - Democrats have demanded that the two initiatives be discussed as soon as the spring session of Parliament starts, "The authorities must make up their minds about the veterans. It will be a very sensible step for them to support these initiatives; if they refuse, it will be viewed as a sign that the current authorities are not interested in the most honourable people of Georgian society."
Analyst Irakli Sesiashvili told
The Messenger
, "The authorities do not need any kind of additional expenses in the state budget, which is in a very bad condition. After the elections, the main aim and intention of the authorities is to somehow fill the budget and it does so at the expense of the people by increasing different fees. Those veterans are useless to the authorities and I doubt the authorities will re-allocate money for them from the state budget; it is not going to spend money on them that is very much needed for the 2012 elections and for that comfort they currently have now. Thus, I doubt those legislative initiatives will be taken into consideration."