MFA recommends against travel to Egypt
By Mzia Kupunia
Tuesday, February 1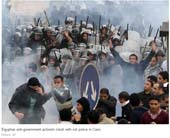 The Georgian Foreign Ministry has urged Georgian citizens to refrain from travelling to Egypt following the week-long unrest in the country. The Ministry has recommended that Georgian tourists obey the regulations announced by the Egyptian government, not to go to public places and keep in contact with the Georgian embassy in Egypt.
Speaking at Monday's regular press briefing, the Georgian Deputy Foreign Minister, Nino Kalandadze said Georgia has not yet announced the evacuation of its citizens from Egypt. "For now it is up to the people to decide whether they prefer to stay in Egypt or not," she said. According to the Deputy Minister, Georgia is considering putting on extra flights between Georgia and Egypt if necessary. "Citizens who want to leave Egypt immediately will be able to use one of the additional flights," she noted.
The Georgian Foreign Ministry launched a special hotline number on Sunday for people interested in receiving information about the situation in Egypt. "They can contact us to find out what kind of assistance our Embassy can give to Georgian citizens who are there," Kalandadze said, reiterating the Ministry's call for Georgians to refrain from travelling to Egypt for the moment since "it is yet not known for how long the unrest will continue." According to Kalandadze, the hotline is working but with "shortcomings" due to the large number of incoming calls. "The hotline was launched yesterday; however we cannot avoid technical problems, because we are receiving a lot of calls. Yesterday we were getting calls all night long. We are working on eliminating the shortcomings," Kalandadze told journalists yesterday.
The Georgian Foreign Ministry has expressed its concern over the situation in Egypt. "It is regretful that the situation is aggravating and the number of killed increasing," the Deputy Minister said "We hope that despite everything, the situation will ease and the government and the people will find a way for dialogue," she added.
Meanwhile Airzena-Georgian Airways has expressed its readiness to conduct extra flights to Egypt if requested by the Georgian officials. Georgian Airways public relations chief, Nino Giorgobiani said the airline has received no such requests so far. "We will conduct a flight to Egypt tonight and we are also waiting for passengers to arrive from Egypt at dawn," Giorgobiani said on Monday, adding that 82 passengers were due to fly to Egypt on a charter flight yesterday evening. Though later their number decreased.
Georgian travel agencies have also recommended their clients refrain from traveling to Egypt. Some agencies have cancelled bookings for their clients or offered them alternative destinations. Travel agency Ultratour cancelled four bookings for Monday night's flight to Sharm el Sheikh, Mari Chirinashvili, the Directions Manager of Ultratour told The Messenger. "The situation in Sharm el Sheikh is not so tense, however for the safety of our clients we suggest they refrain from traveling there anyway, especially following the statement of the Georgian Foreign Ministry," Chirinashvili said. "As far as I know the safety of tourists is under threat not from the police or the army, but due to looters in Egyptian cities," she added.
Another Georgian travel agency, Travel Club, has cancelled all tour bookings to Egypt. According to Beka Tujishvili, the tour operator at Travel Club, 10 reservations for Monday night's flight have been cancelled. "It was our decision to cancel them, however there have been cases where clients have asked us to do so," he noted. "About 5 or 6 of our clients are leaving Egypt tonight and are due to arrive in Georgia on next Tuesday morning," he said. According to Tujishvili Travel Club decided has cancelled all tours to Egypt until the situation in the country returns to normal.
Some travel agencies have refrained from making comments for the media, saying they are "currently making decisions" about Egyptian tours.
The nationwide protests in Egypt continue with the population demanding the resignation of the 82-year-old President, Hosni Mubarak, who has ruled the country for almost 30 years. According to official data, more than 200 people died as a result of clashes between the demonstrators and the police.