PM announces new economic projects
By Salome Modebadze
Tuesday, February 1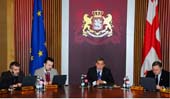 Prime Minister Nika Gilauri shared new economic projects with the media before yesterday's Government Session. Informing the public of the financial support from the Asian Development Bank Gilauri spoke of the "huge investments" in infrastructure projects carried out by the World Bank, EBRD and KFWS in previous years. The projects included the rehabilitation of motorways, provision of electricity transmission, etc. Welcoming rehabilitation the activities of water provision systems the PM said negotiations with the Asian Development Bank have also been concluded.
The Asian Development Bank has loaned Georgia USD 500 million to cover the infrastructure activities in the regions. "We have recently carried out several projects in Poti, Kutaisi, Bakuriani, Kobuleti and we are now launching complex projects aimed at improving water provision for the whole country," Gilauri stated.
Promising 24 hour water provision to the Georgian population by the end of 2013, the Minister of Regional Development and Infrastructure Ramaz Nikolaishvili said the Ministry has been actively working on the issue. "Water provision activities have been finished in Anaklia, Mestia and Marneuli following the plan carried out by the Government. 24-hour provision has been a burning issue for other towns also and we envisage all the problems being resolved within three years," stated Nikolaishvili.
A new initiative has been implemented as part of the new course of Ministry of Finance of Georgia so that no trading goods can be brought by hand into our country. This initiative aims at protecting businesses from an unhealthy competitive environment and smuggling, by giving tax payers equal conditions. Deputy Minister of Finance Rusudan Kemularia explained at a special press conference such goods should only be brought into the country using special trade vehicles. Concerned that there still violations of rights on customs duties despite all the existing sanctions Kemularia said it would now be the responsibility of customs duty officers to check and control all goods and define whether or not they are goods for trading.
Economic analysts doubt that the new regulations will negatively affect the price of goods. Explaining that such trading goods are mostly brought by the poorer part of the population without any alternative income analysts worried that the changes in customs duties would cause problems for retail traders.