New import rule hits individual traders
By Gvantsa Gabekhadze
Wednesday, February 2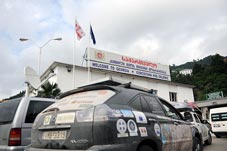 Rules on the import of commodities into Georgia have changed according to a statement on the issue made by the Deputy Finance Minister, Rusudan Kemularia, on Monday. The new regulations came into force yesterday, February 1.
Commodities for trade can now only be imported by truck only. "Individuals will no longer be able to import commodities for trade purposes. Business should be protected from unhealthy competition and contraband. All tax-payers should be treated equally. That's why we introduced the new rule," Kemularia said. According to the deputy minister, customs officers will use a set of guidelines to determine whether a commodity is intended for trade or personal use.
Some Georgian economic analysts believe that the new regulation will result in more price rises, while others consider the decision a violation of Georgian citizens' constitutional rights.
"Maybe the new rule is aimed against contraband; however it will inevitably cause prices to increase in Georgia. Today contraband is not really as painful an issue for Georgia as it was 10 years ago," Nodar Khaduri said. According to fellow analyst, Davit Narmania, the new regulation will make it difficult to differentiate which goods are for personal use and which are for selling. He commented, "There is a certain category of people in the country who transport goods using their own transport or just with bags. Those people are largely from socially unprotected groups or poor families. This restriction will cause price increases on goods transported in this way that has just been prohibited."
The new rule violates the constitutional rights of Georgian citizens - economic analyst, Gia Khukhashvili told
The Messenger
. "On one side administrative changes in this field were needed, for the reason cited by the Finance Ministry, however the mode and restrictions they have adopted are unacceptable, as they violate the constitutional rights of citizens," Khukhashvili said and explained why: "If I want to start a business, buy goods, pay customs duties and do everything within the law, why should someone prohibit me from transporting the goods with my own car?" The analyst mentioned that was the easiest way for the Customs administration to solve the problem and they did it at the expense of the Georgian people. "They did not think of the problems this decision would create for the ordinary Georgian. Some other solution to the problem should have been found."