Baghapsh downplays Tbilisi's Rosneft claims
By Mzia Kupunia
Wednesday, February 2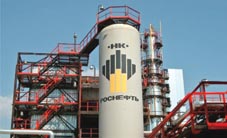 Abkhazia has supplies of high quality oil, the extraction of which is conducted by the company Rosneft said the de facto Abkhazian President, Sergey Shamba on Monday in an interview to the Russian newspaper
Moskovskie Novosti
. Baghapsh downplayed the statements of Tbilisi that the extraction works along the Abkhazia Black Sea coast are illegal.
"Nobody thinks that the shelf is Georgian. We have drawn up a map, made special marks determining our borders and our economic zone. We will approve all of these in the government and in the parliament," Baghapsh told the
Moskovskie Novosti
newspaper. "Georgians can think that it is their shelf for another 100 years. You have heard Saakashvili's latest statements that he still sees Abkhazia in his dreams and cries in the morning when he wakes up and that he will be in Sukhumi again next year. How does this go with whatever he said at the European Parliament that he will only act in peaceful manner?" the de facto leader of Georgia's breakaway region said.
Baghapsh also downplayed the environmental concerns connected with extracting oil in Abkhazia, saying, "Either all countries in the region should conduct extraction works, or none of them." The de facto President said, "I am not an enemy of my own nation." According to Baghapsh there are currently about 130 platforms operating in the Black Sea shelf, including several in Georgia, Turkey, Bulgaria, Romania, Ukraine and Russia. "The question arises: if everyone around is working in the Black Sea shelf then will it only be Abkhazia which will preserve the ecology?... We are starting work. However, if everyone will gather and say that it is about Black Sea and ecology and about the future of our children – I will be the first to vote against extraction works," Baghapsh stated.
Tbilisi has slammed the information about the Russian state oil company Rosneft starting oil exploration activities in Georgia's breakaway region of Abkhazia, calling it an "illegal act." The Georgian Foreign Ministry said that it was "yet further proof of Russia's aggressive policy towards Georgia" and part of Russia's "illegal economic expansion" into Georgian territory. Officials in Tbilisi said that any deals with the "puppet regimes" is a violation of Georgian legislation and will be considered null and void. "The Georgian side maintains the right to take all necessary measures to impose sanctions against the aforementioned Russian Company," the Georgian Foreign Ministry said in its statement.
However, the Georgian authorities have said there is not much that Tbilisi can do in this situation other than informing the international community about the problem. "The only way Tbilisi can try to stop this is by raising the issue in the international arena and try to create problems for Rosneft somewhere else," Chairman of the Parliamentary Committee on European Integration, MP from the ruling National Movement Party, Davit Darchiashvili told
The Messenger
when commenting on Russian state oil company's plans to operate in breakaway Abkhazia.