Georgia vs. Russia at the ECHR
By Salome Modebadze
Wednesday, February 2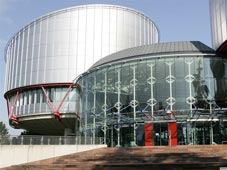 Georgia's suit against Russia is being discussed at the European Court of Human Rights (ECHR) in Strasbourg. The lawsuit against Russia filed by Georgia in 2006 refers to the mass deportation of ethnic Georgians from Russia and the violation of human rights on ethnic grounds. President of ECHR Jan-Paul Kosta was not surprised that the testimonies of the Georgian and Russian sides were completely opposite. ECHR put both sides in equal conditions due to the complications of the case and the number of Georgian and Russian witnesses was the same to better establish the facts.
10 Georgian victims were questioned by the European judges on the first day of the session. All the details of the court remain confidetial. European judges and Russian lawyers asked as many questions as possible to find out the truth about the case. Refraining from sharing particular details concerning the process, Levan Meskhoradze, Georgia's representative to ECHR said all the questions of Georgian victims had been logical.
Deputy Minister of Justice Tina Burjaliani was satisfied with the session and explained that the facts and argument presented by the Georgian side would have been enough proof for the Court to confirm ethnic cleansing. Hoping that the harsh memories the Georgian victims shared with the court would influence the judges Burjaliani suggested that the Russian Federation should compensate all the victims of "Russian policy".
Ethnic cleansing, dead citizens and lost property were the main reasons why Georgia brought the suit against Russia in March 2007. Everything started with transmission of Russian spies to official Moscow followed by tension for Georgian citizens living in Russia. People were deported from Moscow using trade aircrafts in terrible conditions. All these facts were immediately criticized by the Russian Ombudsman.
"The deportation of Georgian citizens, violation of human rights and establishment of economical sanctions wouldn't have been the wisest solution to the existing conflict," Matias Eorsi member of European Council Monitoring Committee said reporting on Georgia. Assessing Russia's actions as "rude violations of international law" Eorsi was concerned that the Russian authorities refrained from negotiating with Georgia.
Welcoming the court sessions at ECHR Manana Manjgaladze, Press Speaker of the Georgian President said Saakashvili's administration has been observing the Strasbourg process keenly. The Strasbourg court hearings will last for three days while the final verdict will be released to the public before the end of 2011. Senior European official Matias Eorsi, Georgian Public Defender Giorgi Tughushi and Zurab Pataradze former consul of Georgia in Moscow also gave testimonies to the ECHR. Eyewitnesses from Russian side will also be questioned; the majority are Russian militia officers and representatives of the immigration department.