Saakashvili confident on economy after 'year of stability'
By Salome Modebadze
Thursday, February 3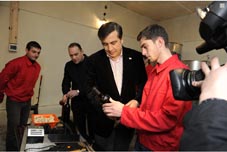 On February 1, the President of Georgia Mikheil Saakashvili visited a rehabilitated vocational education and training center in Kachreti, Kakheti region and shared the main challenges for Georgia's development with the young industrialists. "We have enough potential to improve local production with talented people being educated at such technical colleges, but the only thing we need to realize is our challenges," Saakashvili stated.
Calling 2010 "the year of stability" Saakashvili spoke of the international success of the country which has put Georgia in the list of main reform-maker states. Talking of the "healthy and increasing macro economy" of our country, he encouraged the students to start their small businesses and create local production.
"Most things come to Georgia from Turkey – the country which has managed to establish their own industry in the last several decades. It's high time that we should start realizing that local production will save us from poverty," the President said worrying about the increasing prices on products and high rate of unemployment. Talking of democracy as our main "weapon" Saakashvili spoke of a "consensus" among the Georgians as the best way out from the country's difficulties. "We had 2 million visitors in 2010 and expect more than 3 million this year. It's the whole industry not for economical but political benefits," he said, stressing the need for "overcoming the national geographical captivity" and enlarging the horizon through "global cooperation".
Saakashvili stated that Georgia should follow Singapore's path of development and added that Estonia was also a fitting example.
"I am often saying that Georgia should follow suit of Singapore and Georgia follows Estonia's example in many things," he said. "We are often told by the Europeans: 'Why are you fixated on Singapore; it is a totally different situation with an absolutely different regime; your country is moving on the path of European democracy' - and that's true, but democracy does not mean instability," Saakashvili added.
In his address, Saakashvili explained why he suggests Georgia to learn from those two countries. He said that once Singapore was a small town where the living conditions were poorer than we have now. In a small description, the President highlighted that Singapore has only seven square kilometers of access to the sea and it was surrounded by a hostile environment – by big states, which were all ready to swallow up this small country, which had neither agricultural lands, nor irrigation water and generally, its situation was absolutely hopeless…
"But this country managed to become one of the richest countries in the world. Then what the hell is happening with Georgia? We have such land, such natural resources, such nature and such talented people," he stated.
Talking of the free economical zones as the basis for restoring the local infrastructure the President spoke of importance of mountainous resorts as the main lever for the country. Emphasizing that the mountains had been the most "disobedient" part of Georgia Saakashvili hoped that these same regions would manage to repulse the blow of inflation. "What we thought had been non-perspective will bring us to economical success," he said initiating establishment of industrial productions in various Georgian regions.