Prisoners to be granted long term family visits
By Gvantsa Gabekhadze
Friday, February 4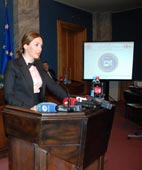 Prison inmates will be allowed long-term visitations from this year in Georgia- Khatuna Kalmakhelidze, the Minister of Penitentiary, Corrections and Legal Aid., stated at the joint sitting of the two committees, Human Rights and Civil Integration and the Committee on Legal Issues, on February 3.
As the Minister informed, the introduction of the-long term visitations was initially a long-term plan however, due to the exceptional importance of the issue, the ministry accelerated this process and the construction of the necessary infrastructure for long-term visitations has already been finalized for the #11 juvenile establishment, # 6 and #16 Rustavi penitentiary establishments.
As the law enters into force, the inmates at the respective establishments will be allowed to have long term visitations, which according to the draft shall constitute 24 hours. They may spend this time with the family members in a clean and comfortable environment within the boundaries of the penitentiary establishment.
According to the Minister, the reforms ongoing within the system are comprehensive and special priority is given to the rehabilitation of the prisoners.
"The issue of long term visitations will be functional within three establishments in the near future. All the necessary conditions are already in place. Now, it is essential that the parliament adopted the law. We tried to create a comfortable and humane infrastructure there", Kalmakhelidze stated. According to her information, the creation of an adequate environment for the long-term visitations will gradually commence in other prisons and will be completed before 2012.
According to the draft, the prisoners will have the possibility of 2 long term visitations a year. For the purpose of encouragement, they may be allowed one additional visitation. The juvenile prisoners will have the opportunity to have 4 visitations a year. The visitations will be paid and it could possibly cost up to GEL 60, "if the long term visitations were to be absolutely free it would be impossible to launch the system so quickly, "Kalmakhelidze said.
Jondi Baghaturia, from parliamentary oppositional Georgian troupe, welcomed the draft law, however he criticized some aspects regarding the price of the visitations, which would be covered by the prisoners' families, "GEL 60 is the minimum price; however there should be some privileges for socially unprotected families. For such people and for only husband and wife there would be one visitation in a year free from charge. Some measures in this direction should be included."
The Christian Democrats were more critical in their statement regarding the issue, "it seems the direction chosen by the authorities failed initially and only 100 prisoners used such an opportunity in two years. Infrastructure for long term visitations should be built in all of these establishments and the fee should be more affordable," Tamaz Bakuridze, from the Movement, said.
Analyst Nika Chitadze told
The Messenger
, "I welcome this draft law and consider that this change will lighten the fate of the prisoners, despite the fact the prisoners' families would be obliged to cover the cost of appointments." he also commented on Kalmakhelidze's activities as the Minister, "when she was appointed as the Minister of Penitentiary, Corrections and Legal Aid many had a skeptical attitude on how she would rule the Ministry. However, she has a western education, is a talented person and I think that she would be able to carry out successful reforms in the Ministry." At the same time, the analyst considers that one person's intention will not be enough, "I often state one of the main problems in Georgia, is the lack of professional staff in state structures and nepotism. I hope that she will gather a professional team around her."