UH Human Rights Council gives 163 recommendations to Georgia
By Mzia Kupunia
Friday, February 4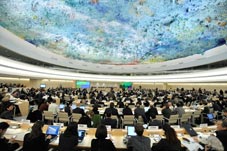 The UN Human Rights Council approved 163 recommendations to Georgia in the frames of its Universal Periodic Review (UPR) on February 1, the Georgian Foreign Ministry reported on Wednesday. The Georgian delegation agreed with 100 of them, including the recommendations on resolving the problem of overcrowded prisons, improving the conditions of the prisoners, implementing measures to eliminate torture, providing adequate housing to the IDPs, defending the rights of the journalists and ensuring fair investigation of incidents of violence against them. In order to make a final decision about some of the recommendations, the Georgian side asked for additional time. According to the Georgian officials, these are the recommendations which envisage legislative changes and need several months to be discussed.
"Work on the adopted recommendations will be in progress for the next several months and the final position of Tbilisi about the resolution will be drawn up," the Foreign Ministry statement reads. Tbilisi has 4 years to implement the recommendations on which it has already agreed. The Georgian delegation did not accept 5 recommendations, including the one about decreasing preliminary detention for administrative wrongdoings from 90 to 60 days.
The head of the Georgian delegation, Deputy Foreign Minister Sergi Kapanadze told Radio Free Europe/Radio Liberty that the Georgian side refused to agree on the recommendation to decrease preliminary detention length because "the practice envisaged by the Georgian legislation is more liberal than those of many European states." Kapanadze said other recommendations were not accepted because "were based on wrong information." "The recommendation about not creating enemy icon of the minorities was not accepted because this problem does not exist in Georgia in fact," he noted. The Deputy Minister told RFE/RL that the fact of giving more than 160 recommendations to Georgia "indicates international community's interest towards the human rights record in the country." "Naturally, there is criticism, but it is done in a constructive way," he noted.
The adoption of the recommendations was preceded by a hearing of the Georgian delegation's report on human rights record in the country at the 10th session of the Universal Periodic Review on January 28. The interactive hearing lasted 3 hours and the representatives of 54 UN member states participated in the discussion, according to the Georgian Foreign Ministry. Members of the Georgian delegation touched upon the issue of the human rights situation on Georgia's occupied territories, as well as the problems of the IDPs and the necessity of their safe and dignified return to their homes.
According to the Georgian delegation representatives, the Russian delegation members had two atttepmts to "politicize the forum by provocative statements." Sergi Kapanadze of the Foreign Ministry said "as soon as the Georgian delegation mentioned occupied territories, the Russian officials stated that the occupied territories are not part of Georgia and the Georgian delegation has no right to talk about the situation in terms of human rights there." Kapanadze noted that in response to the Georgian delegation called on Russia "to play with civilized rules and to stop attempts of politicizing non-political debates." The representatives of the US delegation reacted to the statements of the Russian Federation delegation members, the Georgian MFA said. "They stated that due to the Russian occupation of Georgia's regions, the Georgian government is not able to defend human rights in these regions."
Officially, Tbilisi says the Georgian side will "do its best" to take into consideration all recommendations "which will really improve the human rights situation in the country."