McCain slams Russia's policy over Georgia
By Etuna Tsotniashvili
Monday, February 7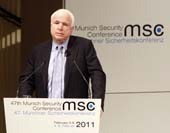 U.S. Senator John McCain slammed Russia's policy towards Georgia while delivering his remarks at the Munich Security Conference in Munich on February 5.
"There is fundamental contradiction between the U.S. and Russian positions on missile defense, especially in the context of the New START Treaty; and of course, the illegal occupation of the internationally recognised sovereign territory of Georgia," Senator McCain stated.
Russian Foreign Minister Sergey Lavrov listened to the US Senator's remarks and tried to justify Moscow`s position.
"Abkhazia and South Ossetia were recognised as independent states, because there was no other way in our conviction to save not only the people of these countries but also the survival of those nations," the Russian Foreign Minister said.
John McCain responded that Abkhazian and so called South Ossetian sovereignty was recognised by only two other countries – Nicaragua and Venezuela.
"The world didn't support it. We are concerned that France sold Mistral to Russia. After purchasing Mistral, the Russian general said that it would take Russia 45 minutes to do what took several weeks. It strengthens our and our friends' endeavour to help Georgia in purchasing defense armament to be protected from attack in future," stated McCain.
Meanwhile Russian media has been speculating about President Medvedev's absence from the Munich conference which is being attended by the leaders of 150 countries.
The Russian daily newspaper
Kommersant
reports that the organisers of the Munich conference had high hopes that Dmitry Medvedev would head the Russian delegation in Munich, which would have been the second following the Davos World Forum, and the Russian leader could publish their ideas in this election year. "In October the conference chairman, Wolfgang Ischinger even visited Moscow and met with Medvedev to invite him to Munich. But Medvedev tactfully declined the invitation, citing a busy schedule," Kommersant writes.
However the Kremlin and the Russian Foreign Ministry both told the
Kommersant
that there was a different reason for Medvedev's failure to attend. "This year the President of Georgia, Mikheil Saakashvili is expected in Munich and with the current great debate on the situation in the Caucasus, the Kremlin decided to avoid any unwanted meeting," the Kommersant article reads.
According to the Russian newspaper, until recently the Munich conference on security was one of the most vivid symbols of the new cold war between Russia and the West and led to a Vladimir Putin's second presidential term. "Since February 2007, when he delivered his now famous Munich speech, Russia has not escaped criticism. Even last year when a restart in US-Russian relations was in full swing, and Sergey Lavrov gave a very friendly speech towards the West in Munich, the Russian minister was still bombarded with questions on why Russia had occupied Abkhazia and South Ossetia, as well as whether Russia agreed with the U.S. START treaty," reports
Kommersant
.