Saakashvili - Peace is the only solution
By Etuna Tsotniashvili
Monday, February 7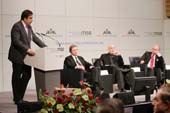 "I came here to deliver one simple message: ignoring the ongoing military build-ups fuelled by well-known foreign hands can lead to future disasters," President of Georgia Mikheil Saakashvili declared at the Munich Security Conference in Munich on February 6.
Delivering his speech, Saakashvili emphasised Georgian-Russian relations and the occupied territories of Georgia stating, "Peace is the only solution, and a comprehensive political dialogue is the only way to achieve it." Saakashvili said that his government is committed to take every possible step in order to defuse tensions and pave the way to a just and lasting peace in the region.
"In the 80% of Georgia that we control, we have made considerable progress during the last 7 years in building a multi-ethnic state where all citizens have access to the government and the economy," the President said. He also talked about the Russian occupied territories where the Georgian government has adopted a comprehensive strategy of peaceful engagement of all populations, trying to rebuild bridges between the communities that the Soviet leaders and their heirs systematically destroyed. He added that Georgia never took the Russian refusal to comply with the August 12th 2008 cease-fire agreement as a pretext, nevertheless Georgia went beyond its commitments as defined in the cease-fire agreement, as well as in cooperation with the essential European Union Monitoring Mission (EUMM).
"But until now, how did the Russian leaders respond to our call?" Saakashvili asked. Answeeing the question himself, he stated that Russia refused to the non-use of force and responded by accelerating the military build-up in the occupied regions, announcing lately the deployment of offensive missiles just 50 miles from the capital, Tbilisi.
The President talked about the role of the EU and US in Georgian affairs and stressing the necessity for American as well as European involvement, he expressed his hope that with their support the region will change for the better. "With your help, I am confident that we can transform this region marked by old-fashioned logics of domination into an area of cooperation and progress," the president commented.
Speaking on so-called "frozen conflicts" Saakashvili gave the soviet empire as an example defining it as "an arc of crisis—or so-called frozen conflict."
"We Georgians have seen in 2008 how quickly a "frozen conflict" can turn into a hot war and I cannot emphasise enough today the danger of overlooking ongoing tensions in the South Caucasus and beyond," he said. "It is time to debunk the idea that so-called "frozen conflicts" are at a stalemate and that advantage can only be gained by using force," Saakashvili concluded.
Speaking on establishing peace and stability worldwide Saakashvili touched upon the topic of Afghanistan and said that Georgians strongly believe that it is our collective responsibility to project stability in areas where it does not exist, adding that a significant number of Georgian troops have been sent to Afghanistan to help achieve peace and prevent terrorism.
"This is why Georgia has sent almost 1,000 troops to support some of the most dangerous missions of the ISAF deployment in Afghanistan—to help the Afghan people achieve a sustainable peace and to prevent terrorists from again using that country as a base," Saakashvili said.
"For Georgia, a country of just 4.7 millions souls, whose territory is still partly occupied, such an effort underscores our determination to be a provider—and not just a consumer—of international security," he concluded.
Military analyst and Editor-in-Chief of the military- analytical magazine
Arsenali
, Irakli Aladashvili told
The Messenger
those military forces which have already been sent to Afghanistan are more than is needed. "Therefore I think that sending more soldiers is not required at the present moment. I don't know exactly how many soldiers would be sent. In general I agree more with sending instructors and analysts rather than soldiers, as they do not participate in assaults." The analyst also mentioned that the number of soldiers who are now in Afghanistan consist of 5% of Georgian land military potential. During the rotation process, when new units are leaving and those which are already abroad are returning to the country, nearly 10% of the Georgian military force would be useless if there were some disorders within the country. "This occurred during the August war, when nearly 2000 Georgian soldiers were abroad and despite the fact returned in three days, they were not used during the military operations as when the unit returns to the country, their immediate involvement in operations is not possible as first they must rest." He also welcomes sharing our police experience with other countries, as there have been many positive developments in this field. However the reforms are not yet complete within the country and even Georgians do not know the final outcomes of the reforms. "I can see many improvements in this field, however there are also a lot of hidden shortcomings, which might show themselves if there are any strained situations."