Saakashvili meets world leaders
By Gvantsa Gabekhadze
Monday, February 7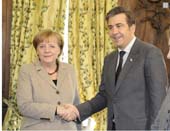 As part of his visit in Germany, Georgian President Mikheil Saakashvili held several meetings with country leaders.
On February 5 Saakashvili met with German Chancellor Angela Merkel. The President's administration reported that the two leaders had friendly discussions for over 40 minutes in a warm atmosphere. The chancellor reiterated Germany's support of Georgian territorial integrity and noted that she supports stability in the whole South Caucasus. The sides discussed Russian-Georgian relations. Merkel also stated that Russia must follow the 12th August ceasefire agreement signed in 2008.
The Chancellor was also interested in the political and economic processes, including tourism development. The sides discussed bilateral relations between Germany and Georgia, deepening relations, global security and Georgian-EU relations.
The President of Georgia also met with Australian Foreign Minister Kevin Rudd. They discussed bilateral relations and future cooperation. During the meeting it was decided that a Georgian Embassy would open in Australia in 2012. Kevin Rudd officially invited Mikheil Saakashvili to Australia. With the aim of deepening cooperation the Australian side also expressed a wish to visit Georgia and an Australian delegation will pay official visit to Georgia
As part of the Munich Security Conference Mikheil Saakashvili also met the President of Switzerland Michelin Calmy-Rey and discussed the problems in Georgian-Russian relations together with making Switzerland's role of mediator between Russia and Georgia more active.