Views on Saakashvili's Munich Speech
By Gvantsa Gabekhadze
Tuesday, February 8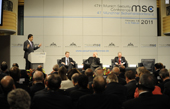 There have been varying assessments in Georgia of President Mikheil Saakashvili's speech at the Munich security conference on Sunday, from different political directions and analysts. Some considered his speech important, while another regarded it as ignorant of the Georgian people's interests.
"The President correctly stressed that the region and the processes ongoing in the region are very significant as this area is of great importance as an energy corridor," Deputy Foreign Minister, Nino Kalandadze said. She also agreed with the President's appeal to the international community for them to pay more attention to frozen conflicts, "as there is a high possibility of such conflicts turning into war, as the world has seen in the example of the events of August 2008 in Georgia."
Levan Vepkhvadze of the Christian-Democratic movement commented on the President's speech saying the Georgian Government's inconsistent policy is damaging to the interests of the Georgian people. "There is no need to appeal to the United States and Europe to ask Russia to sit around the negotiation table. They are doing this without any appeal. In such a situation when the West is trying to exert pressure on Russia you should not disturb the process like the current Georgian authorities are doing." The opposition representative stated the inconsistent policy can be clearly seen when two weeks before the conference you call the Russian authorities reptiles and then during the conference state that you are ready for dialogue and this reflects negatively on the Georgian people "especially when dialogue and negotiation are more in Georgian interests than in Russia's."
New Rights believe that Saakashvili should underline Georgian-Russian relations and he has done this, however peace suggestions must not only be verbal. "Saakashvili should not have passed over Russian–Georgian relations and I agree that he underlined the issue; however, the Georgian authorities' verbal proposals and actual attempts do not coincide very often. There have not been any real peace suggestions towards Abkhazia and South Ossetia. The Georgian authorities should work practically on the issue, not just verbally," Manana Nachkebia from New Rights, told
The Messenger
.
Analyst Irakli Sesiashvili thinks the President did not take Georgian interests into consideration during his speech. "President Saakashvili sets certain issues while standing on the international tribune without thinking about the interests of Georgian society. When Georgian soldiers were killed in peace missions, the Georgian public expressed their negative view of the scale of Georgia's participation in the missions. It was mentioned that Georgia should participate in the missions; however the number of soldiers should be relative to Georgia's demographic reality. "
The analyst is also interested in why soldiers with the most training are being sent to the peace missions, when the President continually stresses the Russian threat. "I consider that his statements were geared towards gaining more points in the eyes of the international community and creating the image of an accepted and necessary leader for the democratic world."
Fellow analyst Nika Chitadze has a different view, "I welcome the fact that the Georgian President once again presented to the international community, at such a significant event as the Munich security conference. He has voiced serious messages regarding Georgia's participation in the peace missions and Georgian- Russian relations." The analyst also gave a positive assessment of Saakashvili's meeting with German Chancellor, Angela Merkel. "Georgia should have close relationships with Germany and France, which are still against delivering MAP to Georgia."