Georgian Luger tragedy re-examined
By Gvantsa Gabekhadze
Wednesday, February 9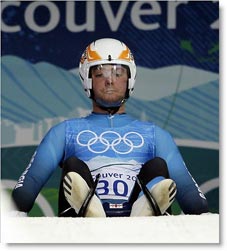 Yesterday Canadian television station, CBC has revisited the reasons for the death of young Georgian luger, Nodar Kumaritashvili almost a year after the tragedy. Local journalists have discovered scandalous e-mails between members of the Vancouver Olympic Committee in which they confirm that the luge track did not meet the required standards. In the TV story broadcast on CBC, the reporter said VANOC (the Vancouver Organising Committee for the 2010 Olympic and Paralympic Winter Games) received several remarks from the international Olympic committee about the track. Georgia has already expressed its interest in the issue.
According to the information reported by CBC, the string of e-mails and letters seems to suggest that the speed of the track, which had lugers clocking as much as 15 mph faster than usual, was a concern well before the Olympics opened.
In a copy of an e-mail obtained by CBC, the VANOC says it received a copy of a letter from the International Luge Federation in March 2009. In that letter the federation, which is ultimately responsible for the condition of the track, expressed concern over the track's design and about its speed.
That prompted head of the Vancouver Olympics organising committee John Furlong to write in an e-mail: "Embedded in this note (cryptic as it may be) is a warning that the track is in their view too fast and someone could get badly hurt. An athlete gets badly injured or worse and I think the case could be made we were warned and did nothing."
After the investigation of the sportsman's death the international luge federation (FIL) said "no single reason" caused the death of Georgian racer Nodar Kumaritashvili in a training run at the Vancouver Olympics.
In a report released by FIL, the sport's governing body underlined "what happened to Nodar has been an unforeseeable fatal accident." FIL secretary general Svein Romstad stated that "after an in-depth analysis we concluded that there was no single reason, but a complex series of inter-related events which led to this tragedy."
Giorgi Asanidze, chairperson of the Sports and Youth Affairs Committee of parliament said the remarks regarding the problems of the luge track were made several times before the Olympic Games began, however, the organisers did not uproot them to avoid the incidents, one of which caused the death of Georgian sportsman.
The Georgian Olympic Committee will study the information broadcast by the Canadian TV station in detail. A statement concerning the issue has been made by the Committee Chair Vakhtang Gegelia, "If the information is confirmed true, we will demand official explanations from all the official sides involved in the issue. After obtaining these explanations, other steps will be taken with the family members of Kumaritashvili. If the fact is confirmed, at least a new investigation on the issue will be launched by Canadian law enforcement structures."