Saakashvili suggests Germany could be key in Russian dialogue
By Gvantsa Gabekhadze
Thursday, February 10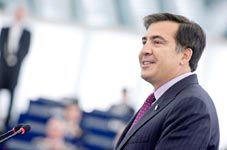 Germany should create the possibility for Georgian dialogue with Russia- President of Georgia, Mikheil Saakashvili stated in his interview with German publication Der Tagesspiegel, on February 9.
"Usually, Russians are avoiding dialogue with me. Germany should use its contacts and tell Russians to stop confrontations on bordering areas and reveal the possibility of dialogue. Georgia wants peaceful negotiations even when our territories are being occupied by Russians. "Saakashvili stated and mentioned that from the beginning dialogue with Dmitry Medvedev and Vladimir Putin is not obligatory, "there is no necessity first dialogue to be held with Putin or Medvedev , in this case rank has no decisive importance. If Germany led such dialogue, Georgia would be glad."
As Saakashvili has explained, Georgia would have avoided any confrontation, however there are other forces in the region, "any contact is better than confrontation, however the Russian authorities are acting as if Georgian Government does not exist."
Majority representatives welcome any country's involvement for launching dialogue with Georgia and Russia, "as it is known, Georgia has already suggested dialogue to the Russians on significant issues, like the country's de occupation, on refugees' issues and stability in the region, if any country supports and encourages such dialogue, it would be very acceptable and I only welcome this," MP, Akaki Minashvili, said.
While the President's international statements are admired by the authorities, the opposition blames the country leader for an inconsistent policy, "on the one hand, several days before the statement on dialogue, you call Russians reptiles and then suggest dialogue. It is an inconsistent policy and disturbs the process, especially when the dialogue is more in our interests," Levan Vepkhvadze, from Christian- Democrats, said.
As analyst Soso Tsiskarishvili told
The Messenger
, ""Saakashvili is trying to use international contacts to make Russians concede in some areas. Maybe such attempts will be successful; However, in this case, I am less optimistic. When Russia's policy is so strict towards Georgia, all foreign leaders would think of his/ her political image. I do not expect Angela Merkel to make such steps openly, as in this case, the chance of her attempt being unsuccessful is high and she will think of her international image. However, I do not exclude that such suggestions from Merkel's side to the Russians might take place, but not publicly."