Radisson satisfied with its performance
Monday, February 14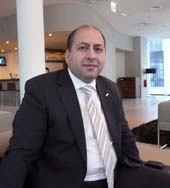 General Manager of Radisson Blu Iveria Hotel, Atakan Turhan, answers The Messenger's Questions
Q. When did you open and are you currently meeting expectations?
We opened in September 2009. I can say that our expectations have certainly been satisfied mainly in the last six months. Our market share has increased in that time.
We are reaching our targets in terms of guest satisfaction and staff satisfaction.
In 2 years, overall room rates in the market have increased by 25%. This is a good indicator for the international hotel industry.
We expect further growth in the market this year and, even though there are now more competitors, we are confident of more success.
Q. Who are your guests and what do you offer them?
80% of our customers are business people, the rest are here for leisure. However, this figure changes depending on the time of year. During some seasons there will be more leisure guests than business guests.
We offer a prime location with the best view in the city. Rooms go all the way up to the 18th floor. Also, we have excellent internet facilities (cable and wireless) which are free of charge; this is unique in the market. The number of facilities that we offer is more than that of anywhere else in the city. We have a restaurant terrace, a spa, a casino. The package we offer is truly unique.
Our conference facilities are extremely modern and the design of the hotel means that our meeting rooms have daylight all day.
Since we are part of the Rezidor Hotel Group, we are taking part in conferences and fairs across the globe.
Q. How do you contribute to the recently promoted tourist industry ambitions in Georgia?
Our head office and regional office are pushing Tbilisi as a location for holidaymakers and business persons alike.
We have the biggest capacity of any hotel in Tbilisi. Whatever we do for ourselves, we also do for Georgia. This is a mutually beneficial relationship where what's good for us is good for Georgia and vice versa.
Q. How many locals do you employ?
Overall, we have around 180 staff, only 5 of whom are foreigners. For us, the most important feature in a member of our staff is their attitude. Our motto is "Yes, I can" and we only employ people with this mindset. Our staff are friendly, out-going, hard-working people who do everything to make our guests feel at home.
Q. Could you tell us about the charity activities of the hotel?
We have a good cooperation with Red Cross of Georgia and also support projects such as First Step Georgia. We helped with a 'Night Fever' theatre event from which the proceeds went to charity.
At Christmas, we held activities for children and collected money for UNICEF.
It is important that we do some things that are not only helping our business but also the local environment and society,
Q. What would you like to tell our readers?
Last week we won the 'Best New Hotel in the Caucasus and Central Asia' award, which we were of course very happy to receive. It is a source of pride for me, my team and for Georgia as a whole.