Alasania for Russia joining WTO
By Salome Modebadze
Tuesday, February 15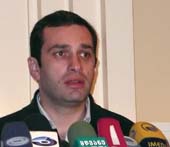 Leader of Our Georgia – Free Democrats Irakli Alasania said he would support Russia's entry to the World Trade Organization (WTO) but only with certain conditions. At a briefing in Gori yesterday Alasania said Georgia should make this step in return for the protection of "our national interests" if Russia guarantees that they will reopen the market and hold negotiations on the border demarcation of the occupied territories.
Georgian production used to satisfy the internal agricultural demands and was also exported to Russia. According to Alasania, Russia was the greatest market which Georgia has lost. Stressing the necessity to restart negotiations on the issue Alasania called it "our strategic market" and encouraged the Georgian Government "to make wise and well-balanced steps." Alasania said voting for Russia's entry to the WTO is "our lever on the international level" which we should use in an appropriate way.
Presenting projects to strengthen the regions to Gori residents Alasania spoke of the importance of the developing the agricultural industry and combating poverty in the regions. Explaining that a stable environment would be the path forward to ensuring food security in our country Alasania said the Free Democrats would encourage peasants and farmers to unite in unique cooperatives. Promising that such initiatives would increase their budgets by attracting investments, Alasania said this would protect internal markets, develop industry and improve regional infrastructure.
Oriented on covering the traditional market as well as exporting abroad, Alasania is concerned that the Georgian Government has not paid attention to agricultural development for the last seven years. "That's why we have practically lost provisional independence and why 80% of products in Georgia are imported," Alasania stated. Claiming his strategy would both create jobs and defeat poverty Alasania suggested that this programme would encourage diversification of agricultural activities. GEL 300 million will be the initial amount to launch the process, which according to the young leader will become billions by the end of the year. The Free Democrats will continue to present their views to regions and express their readiness to consider public remarks.