The European Union launches dialogue on Regional Policy with Georgia
By Messenger Staff
Tuesday, February 15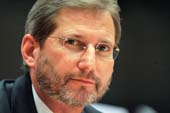 On February 14 European Commissioner for Regional Policy Johannes Hahn in Brussels signed a joint declaration with the Georgian Minister for Regional Development and Infrastructure, Ramaz Nikolaishvili, launching a dialogue on Regional Policy.
Georgia and the EU both face the challenges of uneven development of regions, urban development and restructuring of rural and other areas. The dialogue will take place in the context of the Eastern Partnership, and will lead to the development of pilot programmes and projects. As a first step, the European Commission is offering a series of information seminars and exchange visits for Georgian experts.
Commissioner Hahn said "Today's joint declaration is another sign of the EU's commitment to support Georgia. The idea is to offer the EU's experience to assist with Georgia's development. We have welcomed the State Strategy for Regional Development in Georgia and now look forward to the forthcoming Action Plan".
The Eastern Partnership aims to promote regional development among its members. In 2012 ˆ2 million will be available to Georgia to develop pilot programmes, and in 2013 ˆ8.3 million to develop concrete projects. The purpose is not to directly support investment projects but to build Georgia's economic and institutional capacity. The EU has welcomed the State Strategy for Regional Development of Georgia for 2010-2017, and the decision to create Regional Development Councils. The EU believes in transparent, participative regional development programmes, and supports decentralisation.