Russian analysts suggest situation might "aggravate" in Tskhinvali as elections approach
By Messenger Staff
Thursday, February 17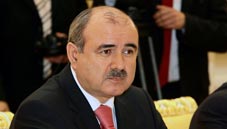 The Kremlin is considering substituting the de facto South Ossetian leader Eduard Kokoity with the so called South Ossetian ambassador to Russia, Dmitry Medoev, Nezavisimaya Gazeta reported. According to the Modern Policy Fund representatives, quoted by the Russian newspaper, there is no alternative candidate except Medoev at this stage. The so called ambassador, however, has neither confirmed, nor denied the reports about his possible participation in the "elections" in Tskhinvali region.
Nezavisimaya Gazeta reports that Eduard Kokoity would like to see the so called General Prosecutor, Teimuraz Khugaev as his successor; however the Russian analysts suggest that Kokoity has "lost his electorate" and that "the negative attitude towards the current leader might spread to Khugaev as well." Head of the Caucasus Department of the fund, Vladimer Nesterenko noted that there is no opposition in the de facto republic, as far as the representatives of the opposition forces "have fled in fear of political oppressions." "Most of them live in Moscow now," the Russian newspaper quoted him as saying.
Nezavisimaya Gazeta suggests that neither the members of the opposition living in Moscow "are popular among the population" in Tskhinvali region: "thus, in conditions of having no favorites, the aggravation of the situation as the elections are approaching is inevitable." Nezavisimaya Gazeta also notes that there is one more version – voiced by Russian politician and writer Alexander Prokhanov. He suggested that the Kremlin is considering handing Tskhinvali region to Georgia and is hoping to "get rid of Saakashvili from the political arena" in return. According to the scenario voiced by the Russian politician, "a less well- known candidate wins presidential elections in South Ossetia and the Ossetian people decide that it seems better to be part of Georgia again."
Eduard Kokoity's "presidential term" expires in November 2011.