Georgian PM meets the Armenian President and the PM
By Messenger Staff
Friday, February 18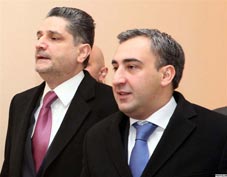 Georgian Prime Minister Nika Gilauri paid a one-day visit to Armenia on February 16. In the frames of the visit Gilauri met the Armenian President Serzh Sargsyan and the Prime Minister Tigran Sargsyan. Speaking at a joint press conference after meeting with his Armenian counterpart, Gilauri noted that the sides discussed issues related with the joint management of the state border and a new tax code adopted in Georgia. "We discussed other infrastructural projects, which are very important for our cooperation in the future," Gilauri noted. The Georgian Prime Minister said that the sides shared their experience in terms of inflation processes. "Nowadays inflation is not only an issue in Georgia or Armenia. It is a regional and global phenomenon," he stated.
Gilauri reiterated the position of the officials in Tbilisi that Georgia is not planning to sell a North-South pipeline, through which Armenia receives natural gas from Russia. "I have been asked this question many times. I would like to say that the Georgian Government will not sell control of the shares of the pipeline. There are some strategic objects, the management of which will be carried out by the Georgian government," he noted.
In terms of joint management of state borders between Armenia and Georgia, Gilauri said that political cooperation has already been "settled." "This issue consists of several components, our working groups are already dealing with them. From June 1 of last year we already launched a joint management system with Turkey and I hope that this issue will be regulated between Armenia and Georgia too," he noted.
At the meeting with the Armenian President, Gilauri passed him an invitation from the Georgian President Mikheil Saakashvili, Sargsyan's administration reported. The Armenian President stressed the importance of bilateral meetings, saying that "it is a good opportunity to develop relations and extend cooperation in various fields." He pointed out that in Armenian-Georgian economic relations there is a "positive trends," however noted, that "in comparison with the existing potential, the economic relations between the two countries cannot be considered satisfactory." The Armenian President called for "activating efforts in this direction."