Geneva co-chairs visit Tskhinvali, Kokoity visits Moscow
By Mzia Kupunia
Friday, February 18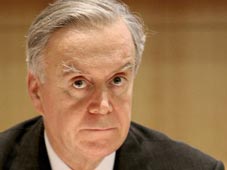 Geneva discussions are being held against the background of a disagreement between the participant sides, co-chair of the Geneva talks, EU's Pierre Morel said on February 16, during his visit to Georgia's breakaway region of South Ossetia. "Despite this problem we are trying to move forward. Solving acute issues requires effort from all sides involved," information agency
Osiform
quoted Morel as saying. Geneva negotiations co-chair named creation of Incidents Prevention and Response Mechanism as one of the most important achievements of Geneva talks. "This work should be carried on and enhanced, because this format envisages direct contact between the sides…This is one of the conditions for ensuring security in the region," he noted.
Other co-chair of the Geneva negotiations, OSCE's Giedrius Cekuolis pointed out that the "most important" condition for solving troublesome issues is the political will of all sides involved in the regulation process. "With the right political will, these issues can be solved quite easily. Otherwise we will start walking round the circle and it might last for years," Cekuilis was quoted as saying by Osinform. The de facto South Ossetian authorities expressed readiness to participate in the upcoming 15th round of Geneva talks, saying they are "ready for constructive and fruitful" work in frames of the negotiations in Switzerland.
At the meeting with Geneva co-chairs, the de facto South Ossetian officials claimed that the Georgian side is "hindering" movement of the Georgian population of Akhalgori region through the "state border between Georgia and South Ossetia." Speaking at a special press conference on Tuesday, the representative of the de facto South Ossetian President in Post Conflict Regulation Issues, Boris Chochiev said this issue has been discussed in the Geneva talks' format several times already.
Meanwhile, the de facto South Ossetian President Eduard Kokoity met the Russian Prime Minister Vladimir Putin on February 16. The sides discussed the implementation of a "complex plan" on rehabilitation funded by Moscow, which started after the August conflict in 2008, Osinform reported. The Russian Prime Minister said that trade turnover between Russia and South Ossetia has increased twofold, saying that although these are "modest figures" it indicates that there are "positive trends." "You know how carefully we treat our bilateral relations," Putin told the de facto South Ossetian leader. At the meeting with the Russian PM Kokoity said that the Russian-funded complex plan on rehabilitation is finalized. "A lot has been done," the de facto President noted.