Does the US want Saakashvili to stay?
By Gvantsa Gabekhadze
Wednesday, February 23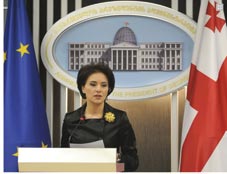 President Saakashvili's future plans differ from those mentioned in the report of the United States Intelligence service – the President's spokesperson, Manana Manjgaladze said yesterday. During the briefing she also touched upon Georgia's new security scheme.
"Our response to the report of the US Intelligence service will be very brief; we will refrain from making any comment. However, I can say that President Mikheil Saakashvili has completely different plans for when his presidential term expires and he has already talked about the issue during the presentation of his annual report."
Meanwhile the Georgian opposition and some Georgian analysts have a different attitude regarding the issue. Almost every opposition party believe that Saakashvili will continue his political career as Prime Minister and the recent amendments to the constitution are directly connected to this intention.
Legal analyst, Vakhtang Khmaladze commented, "According to the new constitution of Georgia, which will come into force in 2013, the Prime Minister will be the most powerful figure in the country. Maybe Saakashvili will want to be Prime Minister; this however will only be possible if Parliament supports his candidacy. Thus, the National Movement needs to gain the majority in parliament in order to be able to support Saakashvili." The analyst considers therefore that the election environment and how the elections are held are of utmost importance.
"The elections will be fair and transparent only if voter biometric data is used, since then there will be no chance of falsification." He also mentioned that since the majority party is still against using this method for the elections is a clear indication that they do not want free elections in the country.
As for the new security scheme, Manjgaladze said, "Discussions of the country's security scheme in Parliament are in active stage, which is a very important, as only after serious discussions of the document will this significant document be adopted. It is also very important that different political forces are actively involved in the process."
Head of US National Intelligence, James Clapper stated that along with Russia's military presence in Abkhazia and South Ossetia, Georgia's public efforts to reach out to Russia's North Caucasus republics contributes to the tensions in the region. On Georgia's domestic politics, Clapper said that President Saakashvili "has not indicated his future plans but the option is available for him under the new Constitution to serve as the Prime Minister," whose office will be strengthened after the new Constitution enters into force following the presidential elections in late 2013.