Parliament tribute to cadets killed 80 years ago
By Gvantsa Gabekhadze
Thursday, February 24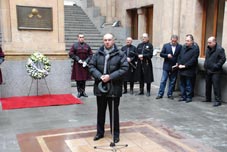 The events dedicated to the memories of cadets killed on 17-24 February 1921 near Tabakhmela, Kodjori and Iaghluji, were held at the Parliament on February 23. A Memorial Board in memory of the Officers (Cadets) of the Democratic Republic of Georgia was also opened the same day, on Aghmashenebeli Avenue. Head of the Parliament, MPs, cadet's descendants and invited guests participated in the event.
At the opening ceremony, Deputy Defense Minister Nodar Kharshiladze spoke of the young officers` contribution to the fight for defence of the homeland, saying: "today, for the fist time, we are officially commemorating Georgia's occupation by the soviet army, which has become the reason why we have decided to unveil the Memorial Board on the officers` former school-building. It is a well-known fact that the cadets had shown a fierce resistance to the Russian occupants invading Georgia in 1921. Today, we are committed to building up a modern and strong army capable to defend the country with the very persistence, the young cadets revealed in the fight against the soviet occupiers in 1921". General-Major Devi Chankotadze also underlined the bravery of the young cadets, "I think that the combat spirit and morale shown by the Georgian officers while resisting the enemy should be exemplary to every military man. Each soldier, like the hero cadets, must be ready for self-sacrifice for the sake of the country, that's why we are here to pay tribute to their remembrance".
This is the day of whining happiness- Majority MP, Nugzar Tsiklauri, said, "this is the day, when we are proud and at the same time very sad. Any other issue, compared with our mother county's love and defense, is insignificant." According to the Deputy Parliament Speaker, Mikheil Machavariani, in 2010, Georgian Parliament declared February 25 as a Soviet occupation day and that on February 25, the cadets will again be respected and remembered at the Parliament.
The day is an opened book and a lesson in history which should be an example to present Georgian society- Giorgi Targamadze, Head of Parliamentary minority, Christian-Democratic Movement, said, "90 years ago, near Tbilisi there was an ongoing battle for freedom, independence and honour. For five days, 500 Georgian cadets were bravely fighting against the red army consisting of several thousand soldiers. The fact, we are respecting and remembering them today is the sign, that their merit will not be forgotten and the job they started will continue going on. Georgia will be free and no one will threaten this."