EU delegation visited IDP settlements in Kvemo Kartli
Thursday, February 24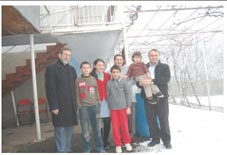 The EU delegation met IDPs from Abkhazia settled in Kvemo Kartli region, the Georgian Ministry for Refugees reported on Wednesday. EU project manager in Georgia, Eva Blanco, and the EU's Ambassador to Georgia, Philip Dimitrov, together with the Georgian Minister for Refugees, Koba Subeliani visited the IDPs living in the villages of Rustavi, Koda and Tsintskaro.
Subeliani said that the Ministry, together with donors, is working on "strengthening" the IDPs living in the region and assisting them in terms of agriculture. "The places where these people were living temporarily were illegal. They had very small living spaces and were living in very bad conditions. We offered them different kinds of alternatives," the Minister said "The ones who prefer countryside can choose villages, where they will have pieces of land to cultivate and breed livestock. Other sections of the IDPs were resettled to compact settlements, which have been fully renovated," he added.
The EU envoy said that the European Union will carry on assisting the Georgian Government and the IDPs, the Ministry reported. "The EU assists the Georgian Government to solve the problems of the IDPs, most of all in terms of IDPs resettlement. We have already spent 150 million on the projects for the IDPs, however resettlement is not enough," he said, adding that it is necessary to create sources from where the IDPs can earn for living.
The EU representatives and the Georgian Minister visited the family of Kaldani in the village of Tsintskaro. Eka Kaldani, an IDP from Kodori Gorge, said they were living in a one-room flat in Tbilisi. "We were given a two-storied house here, we like the rooms. We receive food assistance as well. We have a piece of land, as well as a yard. It was hard to settle at first, but little-by-little we are getting used to the new place," she noted.