Tusheti – A unique mountain treasure of heritage and beauty
By Gvantsa Gabekhadze
Friday, February 25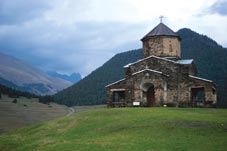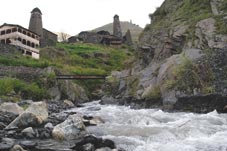 Apart from their unique natural characteristics, Georgia's mountainous region of Tusheti is equally amazing and attractive in its traditional inheritance and beautiful costumes and crafts. Surely, these are the main reasons that the number of tourists and visitors to the region increases with great speed from year to year.
Cultural heritage runs deep here. The roots of which are felt when communicating with locals and taking part in their festivals and traditional practices. One of the major annual events is the end-of-September cattle drive from Tusheti to the lowlands of the Kakheti Region. Here, one can enjoy a unique opportunity to join the shepherds and listen to their stories while sharing a meal by the fire at night.
Tushetian people have also preserved many ancient games like 'Bow and Arrow', 'Distance Jumping', 'Playing with the Ball', the aims of which were to develop flexibility, strength, dexterity and speed in youth. The time-honoured names of these games are so old that non-Tushetian Georgians have a hard time remembering them.
Tushetian hospitality is taken very seriously, as revealed by phrases like "the sun rises when a guest comes; a cloud appears when the guest leaves". Tushetians are genuinely ready to welcome guests with the best food they have, entertain them by teaching their games and even reward them with prizes if they win. The pleasure of being a guest at a Tushetian table is both memorable and unique: Tushetian people brew their own beer, called aludi; make their own khachapuri, called kotori (wheat bread filled with a mixture of curds and boiled butter), and prepare their own Gouda cheese (made from sheep's milk).
The first and most important festival of the year for the Tush is "Atnigenoba". Scholars will tell you it starts on the hundredth day after Easter and continues for two weeks. Well if you know the Tush you will smile and disagree - slightly. In principle, Atnigenoba does start one hundred days after Easter but again this is an animist festival and therefore any festival days must work around the Christian calendar and in Georgia this is a complex issue. The Georgian Church is one of, if not, the oldest Christian faith in the western world and as such the Christian calendar can influence festival dates if there is any conflict of interest. What is clear is that the first festival kicks off around one hundred days after Easter and villages in the region will choose their own dates based on an element of tradition and what the elders can agree amongst themselves. Originally, the festival started in 3-4 centuries to commemorate the martyr Greek monk Atinogen Sebastieli. So the festival is the mixture of pagan and Christian traditions. The process of the festival is very much interesting and different from modern life For several days, one can find himself far from modernity. After fulfilling traditional procedures, locals sacrifice rams to the icons and ask them for protection. The festival is accompanied with traditional songs, dances, music and food.
Tusheti is famous for its traditional handicrafts. Tushetian sheeps' wool is processed, dyed with natural dyes and used for the manufacture of carpets, tapestry and other handicrafts. Carpets, traditional costumes and traditional vessels made by Tushetians are staggeringly beautiful.