Marshrutka drivers' strike to continue
By Gvantsa Gabekhadze
Monday, February 28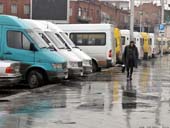 The strike of mini bus drivers is still ongoing in Tbilisi. Another manifestation of Marshrutka drivers is scheduled for today, on Rose Square.
The main demands of the drivers, alongside whom several oppositional factions are participating in the manifestation, are the abolishment of the mini-bus tender results and preserving the current every day fee of GEL 7-12 (the drivers claim that the new transport companies intend to increase the daily fee by GEL 20-40).
"This is the authoritarian regime created by Mikheil Saakashvili. Criminal authorities are trying to leave the people without any income. We need social solidarity; all Georgians should stand with these people and participate in the manifestation, "Sopo Khorguani, one of the leaders of the Georgian party, said.
"Almost all drivers of all Marshrutka lines of Tbilisi are on strike and the strike will go on until the results of tender are scrapped," Lasha Chkhartishvili, from Conservative party, said.
The tender results will not be abolished and information spread on a possible increase in price is false- Head of Tbilisi Transport Service, Akaki Jokhadze , said, "we are not going to abolish the results of the tender. As for information spread about the daily fee for the drivers being increased, this is not true. There are people who are trying to mislead the drivers and make them believe what is not true."
According to deputy chair of Tbilisi City Hall, Mamuka Akhvlediani, "from May, 300 new mini buses will be brought into the country. By the end of the year, their will be 3000 of them in operation." Based on the tender conditions, the drivers would preserve their working places and their daily fee would be GEL 10." It has also been mentioned, that the sitting of the City Rural Commission, regarding the Marshrutka issues would be held at Tbilisi City Hall, on March 1. Here the relevant structures of Tbilisi Mayoral, winning companies and all interested sides will participate and get the desired information on the issue.
As analyst Ramaz Sakvarelidze stated, such forms of protest have no precedent in Georgia, which might become more significant, "the fact that the city is practically paralyzed due to the strike badly effects Tbilisi residents. Municipal transport is an important lever for people and the mechanism of striking is new for Georgia. If society supports the reason for the strike, it might turn into more a serious process, however, if we take into consideration that it is winter and people in this period are less active, it is also possible that nothing will happen."
Tbil-Line Ltd., Capital Group Ltd, Tbil-car Ltd and Public–car Ltd are the four successful companies, which won the tender several weeks ago. They are obliged to bring new minibuses to Tbilisi between October 15, 2011 and October 15, 2012. A memorandum between the companies and the Transport Professional Union has already been signed.