Boden calls for a dialogue, Sukhumi seeks more recognition
By Mzia Kupunia
Monday, February 28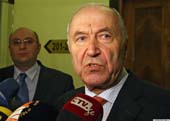 Russians and Georgians should get involved in direct dialogue, Dieter Boden, former Special Representative of the UN Secretary General, who was in charge of the UN Observer Mission in Georgia said in an interview to
Ekho Kavkaza
radio. "I think that it is time to somehow start contact on an absolutely informal level, because [Russia and Georgia] are neighbours and without direct talks it is hard for neighbours to live. Boden suggested that "there is enough common interest for resuming such dialogue."
Answering the question about the official position of Tbilisi that there is no internal or inter-nation conflict in Georgia but a global conflict between Tbilisi and Moscow, Boden said "I don't like these artificial theories." "There are conflicts and there are the sides [of the conflict] some of which are more or less interested in solving the issues. First of all we should realize that there are conflicts and there is a common interest to solve them," he noted "the fact that the sides are sitting around the negotiations table in Geneva, indicates that there is some kind of common interest. Maybe it is a weak interest, but anyway it exists," Boden added.
On a journalist's question as to whether the situation now is better or worse compared to how it was 10 years ago, he said that after the August 2008 war the negotiations have started over again. "Of course there was a very serious breakdown and I hope that they will not freeze the conflicts. They should resolve them. We have already learnt a lesson that we should not freeze conflicts," Boden said.
Meanwhile the de facto Abkhazian authorities state they are hoping to establish diplomatic and trade links with Latin American states. Abkhazian de facto Foreign Minister, Maxim Ghvinjia is visiting Latin America, where he held his first meeting with the Venezuelan authorities. Speaking to journalists last week, the de facto Foreign Minister said the main priority of the "Abkhaz diplomats" is to get recognition from more states.
"Latin America is very important in this respect," he noted "we are not concerned about the possibility that Chavez's controversial reputation might hinder Abkhazia's diplomatic efforts. Our opinion about Venezuela and its officials has significantly changed since I arrived here. International media can turn a king into an idiot and an idiot into a King," Ghvinjia said "The very first contact with President Chavez makes me think that he is a very educated, smart and modern person," he noted, adding that Sukhumi is expecting recognition from Bolivia and Ecuador. Ghvinjia
The de facto official stated gaining recognition is not the "only diplomatic aim" of Sukhumi. "There are states which are recognized which in fact are not states at all, for example Afghanistan and Somalia. For us it is more important to improve life conditions in Abkhazia. We do not use Venezuela's recognition only for recognition's sake, we are interested in real trade relations - we are interested in importing coffee, cigars and rum from Latin America," he noted.
Official Tbilisi claims the recognition of Georgia's breakaway regions of Abkhazia and South Ossetia is "illegal". In addition, any kind of business relations with Sukhumi and Tskhinvali is considered illegal according to Georgia's Law on Occupied Territories.