Torshin's provocative statement
By Mzia Kupunia
Tuesday, March 1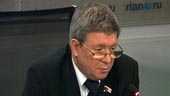 Tbilisi has expressed its concern over the statement of the Deputy Speaker of Russia's Federal Council, Alexander Torshin accusing Georgia of ordering the attack carried out on January 24 in Moscow's Domodedovo airport, which killed 37 people and left more than 100 wounded in the Russian capital. Georgia's Deputy Foreign Minister, Nino Kalandadze said, "We should see a more serious plot behind this [accusation] than the point of view of one person." Speaking at Monday's press briefing, Kalandadze told journalists that Torshin's statement is "ungrounded" and a "preplanned provocation."
"The statement was made without any basis, since the Russian law enforcers had not made any hints about any Georgian trace in the terrorist attack," the deputy Minister said. "So, when this kind of statement is made out of the blue by an official, it is more than just a statement of a single person. Consequently we should see a more serious plot than simply an interview and one person's personal view," she added, also commenting that "recently statements of this type have become more frequent" and called on the international community to pay more attention to the issue.
Speaking to
Rossiyskaya Gazeta
on February 25, the Deputy Speaker of Russia's Federal Council said he does not believe that Islamist rebel leader Doku Umarov was behind the Domodedovo Airport terrorist attack. "Even if he has any relation to this terrorist act, he could have been simply a middleman," he noted, adding that he believes the terrorist act was organised abroad "I understand that my words might trigger anger and misunderstanding, however I think that it was Georgia and its ruling regime," Torshin said.
The Russian official suggested that Saakashvili does not hide his "hatred" of Russia. "He has turned an anti-Russian mood into a competitive product, which he sells. There is nothing else to sell there. Georgian wine is sold poorly on international markets, however there is a demand for Russophobia," Torshin stated. He added, "Saakashvili's regime did not need Umarov to organise terrorist acts, because it has the Ossetian predator Sanakoev and his agents."
Ruling party MPs in Georgia have called Torshin's statements "imprudent delirium." MP Goka Gabashvili said Georgia uses diplomatic, not terrorist ways against Russia. "Georgia has no links with terrorism and never will have. Georgia's position is with the international community to defend its interests against a really terrorist and occupying Russian government. In this fight we are using diplomatic methods, all the means and resources we have, which are completely justified by international law and morals," Gabashvili noted. Ruling National Movement MP Nugzar Tsiklauri said Moscow blames "everyone but the main conspirator" in staging Domodedovo terrorist attack. "We condemn all kind of terrorist activities no matter where they come from," he noted.
Some in Tbilisi have suggested that Moscow aims to "discredit" Georgia's reputation. "The aim of such statements is to discredit Georgia in the eyes of the international community. With such statements Russia is trying to avoid responsibility, which is a result of its deplorable policy," MP Irakli Kavtaradze stated.