Visiting Europe made easier for Georgians
By Mzia Kupunia
Wednesday, March 2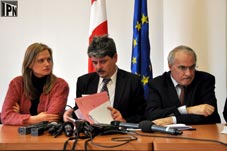 The EU-Georgia simplified Visa Facilitation and Readmission agreements came into force yesterday, March 1. The agreements were ratified at the European Parliament on December 14, 2010. According to the acting Head of the Delegation of the European Union to Georgia, Francois Massoulie, the two agreements are "milestones" in the development of Georgia-EU relations.
The visa facilitation agreement sets out simplified procedures for Georgians to obtain short-term visas to EU countries along with a reduced visa fee of Euro 35 instead of the previous Euro 60 charge. In addition some categories of applicants including children below 12, pensioners, disabled people, students, close relatives and representatives of civil society organisations will be exempt from the visa fee.
According to officials at the EU Delegation to Georgia, bona-fide frequent travelers will be issued multi-entry visas with long periods of validity, while holders of diplomatic passports do not require a visa. Francois Massoulie said the agreement is important in terms of enhancing political, economic and people-to-people relations between Georgia and the EU.
The readmission agreement sets out the obligations and procedures for the Georgian authorities as to when and how to take back people who are illegally residing in the EU. The agreement covers not only those residing illegally but also third country nationals and stateless persons in an irregular situation provided they have a clear link with the requested party. Massoulie stressed that the readmission agreement is largely a "preventive" document which aims at "facilitating legal mobility and discouraging illegal travel." He said the treaty is a "reciprocal" document signed by 25 EU states.
The Georgian authorities hailed the simplification of visa procedures between Georgia and the EU as "a very important step forward" in terms of Georgia-EU relations. "The simplified visa regime has political importance for Georgia while it brings benefits to the Georgian people. The agreement will make it easier for some Georgians to travel to the EU states," commented the Georgian President's press speaker, Manana Manjgaladze at yesterday's press conference.
The Georgian Foreign Ministry has also welcomed the agreement saying that it will contribute to "deepening relations" between the sides. "We have been waiting a long time for this agreement to come in force because on the one hand it indicates that the EU remains committed to its policy towards Georgia and on the other hand, our citizens will benefit from the simplifications of visa procedures," Georgian Deputy Foreign Minister, Nino Kalandadze said.
Meanwhile the Labour Party has demanded that the EU cancel the readmission treaty. Speaking at a special press conference, member of the Labour Party, Nestan Kirtadze said that taking the commitments envisaged by the treaty will be a "crime committed by the Georgian government against a background of dire social conditions and total unemployment." Kirtadze pointed out that the Labour Party has already sent special appeals to the officials of the EU member states, EU authorities and the EU Ambassador to Georgia.