ProCredit Roof-topping ceremony
Wednesday, March 2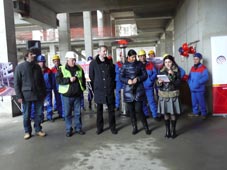 On March 1 ProCredit Bank invited customers, partners, employees and journalists to the "Richtfest" ceremony of its head office being built at Kazbegi Avenue in Saburtalo.
It is an old German tradition to celebrate when the building is roofed and the keys are given to the owner.
The modern 12 000 m2 building with a garden and underground parking facility to be completed by 2012 will have three functions: a head office, a training centre and a new central branch of the bank. The spacious seven–storey building featuring an atrium with a glass roof will have a welcoming atmosphere and enable all the bank's activities to be carried out with maximum efficiency.
"Today we are happy to celebrate "Richtfest" with our employees, workers, partners and media representatives and would like to thank everyone involved in the construction process. The new building will meet the growing needs of our clients and employees. This long term investment will prove successful, clearly demonstrating our commitment and further strengthening our connection with the Georgian community and showing that the bank will continue serving its main goal of being a House Bank for small and medium–sized businesses and offering full banking services to the population," Sascha Ternes, Director of ProCredit Bank stated.