A day in the life of a soldier of Saakashvili
By Messenger Staff
Friday, March 4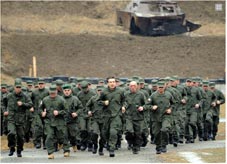 The Georgian Presdient Mikheil Saakashvili and his five-year old son Nikoloz visited a Special Forces unit on Wednesday.
Saakashvili trained together with the soldiers. First he went for a morning run and later moved to the training hall. Mikheil Saakashvili and his son Nickoloz dined together with the soldiers at the dining hall. During his visit to the base, Mikheil Saakashvili stressed his focus on the importance of the Georgian army and the Georgian mission in Afghanistan.
"As I see you have two and three times more training and it is not a show, it is real, daily training. It is necessary to have discipline and special aspirations in the army and aspiration is created exactly by training. I want all of you to know that it is a great honor for me to serve our country together with you, because all of us are the soldiers of our motherland. We never stop thinking, caring and supporting as much as we can our Armed Forces. Our country knows that it can have hopes in you. Unfortunately we had victims in Afghanistan. We had a funeral of our soldier who died in Afghanistan yesterday in Vani, but we must understand that each victim should become a reason for aspiration and getting stronger. Finally all of us serve one and the same aim and we mustn't be afraid. Our aim is fair and everyone knows it very well. It is not my first time here and I think that there are pretty good conditions here. Every time I visit Special Forces unit I see that the situation is improving more and more. As a rule, you must fulfill the most challenging tasks and you need special aspiration, mood and what's more important special training for it", Mikheil Saakashvili stated.