Saakashvili calls for the agricultural sector to be prioritised
By Mzia Kupunia
Wednesday, March 9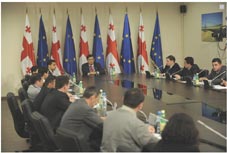 Georgian President Mikheil Saakashvili has reiterated that agriculture should become the Georgian government's main priority. Speaking yesterday at a meeting with the Georgian Agriculture Minister Bakur Kvezereli and the Ministry interns, Saakashvili noted that the Georgian government has "lost quite a lot of time" already and that some of the agricultural programmes should have had started "long ago." "It turned out that without the state's active, determined and direct involvement in agriculture, reaching specific results was unlikely," the President said, adding, "So, we should understand that the Georgian government should become an agrarian government, working constantly to feed it citizens well."
Saakashvili stressed how important it is for agriculture to be central to the country's economy. "As you know, Georgia means agriculture in Greek," the President said, pointing out that the Georgian government should manage to make the Georgian land the country's "main source of wealth." "It might be a rough comparison, but we need to turn the ministry (of agriculture) and the whole government into a military headquarters in order to increase productivity," he noted.
The President touched upon the issue of energy and food vouchers, saying their distribution is important. "People in Georgia's regions experience more problems. Distributing 30 and 20 Lari vouchers means something, especially considering that there are some families in the villages which spend 7-8 GEL a month on electricity. So [for them] the 20 Lari voucher is enough for 3 months," he noted, adding that the main social security is the work of the "agrarian government".
Saakashvili said that meetings on this issue will become regular and a special extended staff will work on "strengthening the agriculture complex, creating new enterprises and modernising the field of agriculture." He mentioned that the Georgian Government will be able to achieve these goals within 12-18 months. Saakashvili assigned government members to turn Georgia's "middle-aged agriculture sphere" into a modern 21st century sector.
At Tuesday's meeting Georgian Agriculture Minister, Bakur Kvezereli announced that special logistic centres would be established in Georgia's regions to "boost agriculture production". He said it is necessary to set up a centre in Poti, on the Black Sea coast. "Products from Georgia's Eastern region will be taken to the Poti logistics centre, where they will be processed and then supplied to international carriers," Kvezereli explained.
Fuel price rises will not affect the tariffs of tractors brought to Georgian villages as part of the state programme, according to Kvezereli. "The farmers will pay last years tariffs to use the tractors," he noted. "The increase in the price of fuel is a very important and problematic issue for manufacturers, however with our service, carried out by the state company, we have decreased the prices, consequently, we are trying to maintain the same prices this year also," the Minister stated.
Some Georgian opposition politicians downplayed Saakashvili's statements, blaming the President and the ruling majority for "creating a crisis" in the agriculture sector. MP Giorgi Tsagareishvili of the Free Democrats said the Georgian government previously chose that it was not necessary to interfere in agricultural development. He commented, "They said that everything would be regulated by the market itself. This policy resulted in the death of the agriculture sector. Georgia turned into a consumer state, which currently has no means of food security."
According to the Free Democrats, the state needs to allocate GEL 300 million from the budget to help the agricultural sector overcome the crisis. "GEL 140 million will not be enough to solve the problems, as claimed by the government," MP Tsagareishvili said.