UN marks International Women's Day
By Salome Modebadze
Wednesday, March 9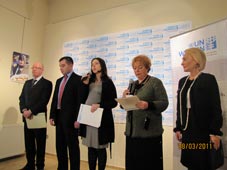 Yesterday, March 8 marked International Women's Day. UN Women – the newly established United Nations body for gender equality and the empowerment of women held the official launch of the organization. UN Women is aimed at bringing together resources and mandates within the UN system for greater impact as the part of the UN reform agenda. Jamie McGoldrick UN Resident Coordinator for Georgia spoke about the "very special day for the UN" to The Messenger.
Talking about the importance of gender equality and empowerment of women McGoldrick welcomed Georgia's active engagement in the achievements of the Millennium Development Goals for improving the human rights situation. "We are very happy to work with the Government of Georgia to make certain steps forward addressing the political, economical and social needs of the population. Thus we are following the challenges ahead together and will collaborate to make sure that gender equality, elimination of domestic violence and other human rights issues are properly addressed," McGoldrick told us.
Speaker of the Georgian Parliament, Davit Bakradze talked about the role of the ongoing reforms against violence against women in our country. Stressing Georgians' respect towards gender equality issues Bakradze welcomed the active engagement of NGOs, civil society and the Government in promoting the issue. "We will do our best to promote equality between men and women and thus establish our place among the list of the most progressive societies worldwide," he told the media.
UN Women, created by the UN General Assembly in July 2010 unifies four UN agencies: Division for the Advancement of Women (DAW), International Research and Training Institute for Advancement of Women (INSTRAW), Office of the Special Adviser on Gender Issues and Advancement of Women (OSAGI) and United Nations Development Fund for Women (UNIFEM). The Executive Director of UN Women Michelle Bachelet, former president of Chile was the first woman president in Latin America.
"Ten years ago International Women's Day was only celebrated by individual states aiming for gender equality. Today we face different reality – although we have policy on women's rights, socio-economic, educational or healthcare issues both women and men face nowadays are still alarming and need more attention. This refers particularly to those people affected by the armed conflicts and displacement in Georgia. That's why active participation of civil society is so important for solving these problems," Deputy Chairperson of Parliament and the Chairwoman of the Parliamentary Council on Gender Equality Rusudan Kervalishvili told us.